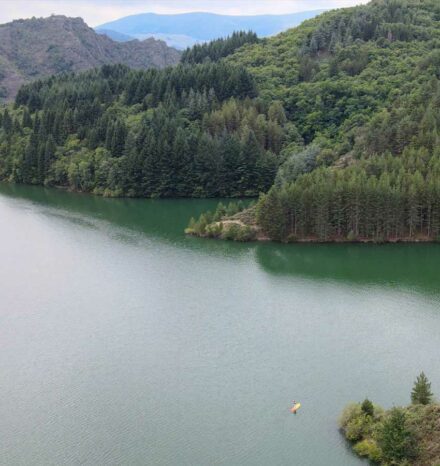 In the Cévennes, at the foot of Mont Lozère
Direct access to Lac de Villefort and its nautical base
Located on an entrance to the Chemin de Régordane (GR 700)
Whether you are an initiate or a beginner, a follower of sporting descents or a lover of walks along the water, the practice of canoe or kayak offers you a unique point of view on nature, and allows you to taste multiple pleasures.
Get on board and you will quickly be seduced by this practice accessible to all. The campings Welcome Canoe labeled will be able to give you advice on choosing the right boat, canoe or kayak. They will also help you choose a site suited to your desires and your condition.
Aboard a canoe or kayak, in complete freedom or accompanied by a guide, glide along the water. No hesitation, come in un camping Welcome Canoe.
"Give meaning to your vacation. "
By booking in a camping Welcome Canoe you choose an establishment ensuring you by a quality charter to provide you with services specific to this activity.
All campings Welcome Canoe
Have one or more referents, available, enthusiastic, able to provide advice adapted to canoeing and kayaking.
Are located near a practice location.
Provide information on the classification of categories and the possible practices for each category. They also recall the safety recommendations adapted to each practice.
Have specific and regulatory documents for canoeing and kayaking. At least in French and English.
Have a map of all practice locations.
Inform athletes about weather conditions and water level.
Offer routes and stays to taste the multiple pleasures of canoeing and kayaking.
Offer a qualified accompanying guide.
Provide a secure room for campers with their equipment.
Provide a drying room for clothes.
Offer accessories necessary for a good outing: sunscreen, cap, plastic pouch to protect the phone, cord to hold glasses, safety cases ...