In France, recreational fishing brings together 1,5 million followers. They come together within an associative network particularly developed throughout the territory.
Si seniors constitute the hard core of practitioners, recreational fishing is far from being an aging activity. People under 18 represent almost a third of the site's members. Fishing Card. A real craze for this hobby whose success has not been denied for generations. In river, fishing is practiced with the fly, the blow or the lure. At sea, it can be underwater, throwing, or trolling.
Practice this outdoor recreationis to give yourself the opportunity to go on an adventure. But it is also an opportunity to recharge your batteries and share quality moments with loved ones… All this in a single activity! And without the monotony having time to set in ... Because over the seasons, fishermen have to adapt. They develop their practices and techniques depending on the fish they are looking for, natural sites or weather conditions. If recreational fishing brings together so many practitioners, it is certainly thanks to this diversity.
Recreational fishing, at sea
Cast fishing targets bass, mackerel, places, amberjack or liches. From a boat or at the seaside, the goal is to throw lures, then bring them back in order to simulate the swimming of an injured prey. The gear changes made with the reel will excite predators.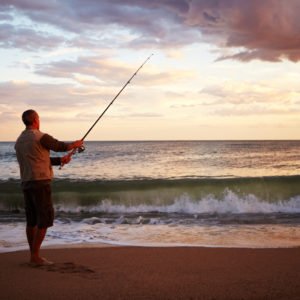 Trolling is best practiced on a sailboat at a speed of 2 to 7 knots. This time it is the train that simulates the swimming of a prey. The light trolling will allow you to bring back mackerel, bars, places and bonito. Heavy trolling is practiced further offshore. With a little practice, white tuna and swordfish will be there!
Surf-casting can be experienced from a beach or dike, preferably at dusk or at night, when fish are approaching the coast. The goal is to throw as far as possible. Up to 150 meters for the best throwers! This fishing allows to bring back a large number of species.
Recreational fishing, in fresh water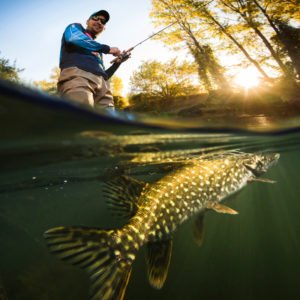 Lure fishing imitates the movements of a prey which attracts predatory fish. There are two schools. The spinning is practiced with a fixed reel and a 2,7 m carbon rod. The casting on the other hand, requires a spinning reel, and a shorter rod.
Coarse fishing is most practiced in fresh water. It is well suited to children and beginners. All you need is a telescopic rod, a line, a plug, a few hooks and bait to have a good time while waiting for a nice catch.
Fly fishing is often considered the most technical, the sportiest and the most elegant. With its whip movements in white water, it is quickly recognizable and allows to bring back trout, salmon and other char.
Recreational fishing is at the forefront of preserving the environment
Today, fishermen have become major players in the fight to preserve the biodiversity of aquatic environments and wetlands. Cleaning the banks, environmental education, development of the territories, fishermen are committed and spare no effort to protect species and their environments. Imagined as a Coastal Conservatory of inland waters, the Fishermen's Foundation moreover relies on the strength of these 1,5 million fishermen in France to acquire and develop wetlands.
Warning ! We do not fish where we want, when we want, as we want.
To fish in rivers, canals, streams and bodies of water, you must first adhere to an approved association for fishing and the protection of the aquatic environment (AAPPMA). It exists 247 certified fishing routes in France.
Beginner or experienced fisherman, alone, with family or friends, labeled courses welcome you. They are located on developed sites, well informed about the fish populations present, and identifiable by colored logos. Whether you want to discover fishing, have a good time with your family, or fully live your passion, let yourself be guided by the color code to experience unique fishing moments.