Campings Rivers and lakes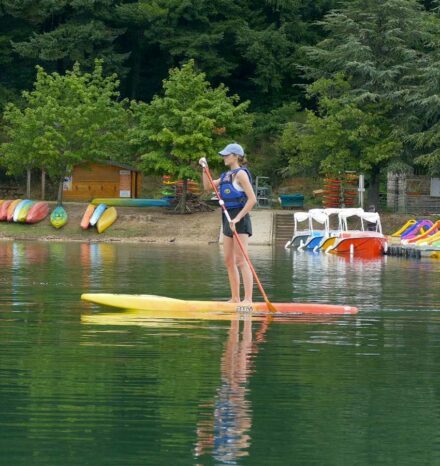 In the Cévennes, at the foot of Mont Lozère
Direct access to Lac de Villefort and its nautical base
Located on an entrance to the Chemin de Régordane (GR 700)
With its 74 rivers, 416 rivers, 1 torrents and nearly 288 lakes and bodies of water, France is a wonderful destination for a refreshing vacation between rivers and lakes.
Rivers and lakes are among the favorite destinations in France. In high and medium mountains, on limestone and granite plateaus ... In the plains or in the heart of forests ... There is something for everyone. Tumult of running waters or charm of a peaceful expanse ? Choose now the enchanting setting of your next vacation.
The most beautiful rivers in France
Our regions all have wonderful rivers. Besides the majestic large rivers, many rivers are the theater of exceptional holidays. The Tarn, the Ardèche, the Hérault, the Verdon or even the Restonica have shaped sumptuous gorges to discover absolutely. More confidential, the gorges of the Méouge, the Solenzara basins, the waterfalls of the Vis… The natural pools of the Aïtone forest or even the Duilhac waterfalls offer hours of relaxation and wonder.
The most beautiful lakes in France
Among the must-see lakes in France, the lake of Sainte-Croix Yes, the lake of Serre-Ponçon in the Hautes-Alpes or even lakes Geneva, Annecy and Bourget, are simply exceptional. The sumptuous lakes of Gérardmer, Guerlédan or Salagou also attract many vacationers. In the Puy-de-Dôme, Pavin lake draw an almost perfect circle in the heart of the forest. In the high mountains, the lake of Oô in the Pyrenees and Allos lake in the Alps are breathtakingly beautiful.
Outdoor sports on the rivers and lakes of France
In white water, in the heart of torrents and rivers, for more thrills place rafting, kayaking or hydrospeed. For a descent of the gorges, canyoning is a must. Jumps, slides and abseils provide adrenaline and excitement to all athletes. In lakes and bodies of water, it is the catamarans, windsurfers and canoes that are the most popular with holidaymakers. Near rivers and lakes, hiking, biking and horseback riding are hugely popular.