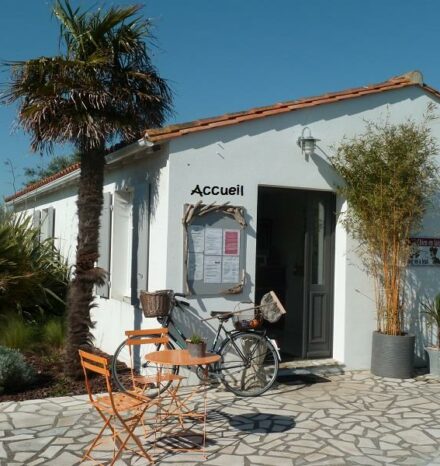 On the Ile de Ré
300 meters from La Conche beach
Near the Lilleau des Niges Reserve
In the heart of the Ile de Ré
Less than 2 kilometers from the beaches
4 kilometers from the fortifications of Saint-Martin-de-Ré
En Charente Maritime, the Île de Ré as well as the islands of Aix, Madame, Nôle and Oléron, make up the marvelous Charentais archipelago.
In New Aquitaine, off the Aunisian coast, Île de Ré is a privileged holiday destination. Between wild nature and preserved heritage, your next stay will be rich in emotions.
Natural heritage
Thanks to its sunshine and the influence of the Gulf Stream, Île de Ré enjoys a particularly mild climate. The coasts are rich with fine sandy beaches and small cliffs. Do not miss to browse the magnificent beach of Conche des Baleines. Its panorama of the ocean will leave you speechless. Lilleau des Niges nature reserve is also a real one for birds and ornithology enthusiasts.
Cultural heritage
When vyour stay on the island of Ré, you will live to the rhythm of the tides. Fishing on foot, visiting the ports and salt marshes, but also strolling in the alleys lined with white facades, will immerse you in the culture and traditions of the city. And to get to know them better, also linger at the Écomusée du Marais Salant or at the Whale Lighthouse Museum, located in the former school of lighthouse keepers.
Historical patrimony
The Châteliers abbey and the Cistercian Abbey of Notre-Dame-de-Ré are magnificent medieval buildings on the Île de Ré. The Fort La Prée is the oldest fortification on the island. Built in the XNUMXth century, it was then remodeled by Vauban who gave it this architecture so representative of his work. The fortifications of Saint-Martin-de-Ré are part of the network of major Vauban sites. They are classified as World Heritage by UNESCO.
Outdoor sports on the Ile de Ré
On the Ile de Ré, the pleasures of sailing are available to vacationers. Also learn to surf and paddle. Then explore the island by bike, before exploring the magnificent hiking trails that cross the island or outline its outlines.