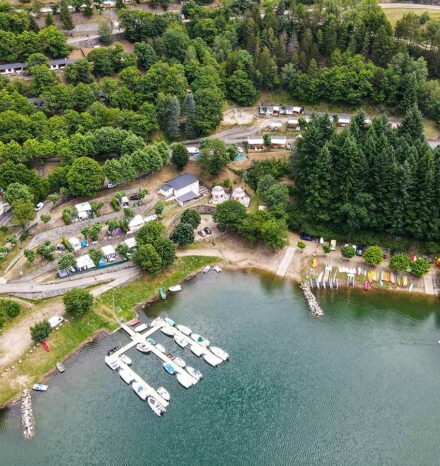 In the Cévennes, at the foot of Mont Lozère
Direct access to Lac de Villefort and its nautical base
Located on an entrance to the Chemin de Régordane (GR 700)
In Occitanie, surrounded by Cantal, Haute-Loire, Aveyron, Ardèche and Gard, Lozère is the least populated department in France. An ideal place for disconnection, rest and discovery.
On the borders of Aubrac and Causses, Lozère offers a thousand and one opportunities for wonder. At the heart of a territory shaped by pastoralism, the authenticity of the place and the preserved biodiversity are the guarantees of an unforgettable stay.
The essentials of Lozère
Discover Lozère Without doubt first of all the discovery of the Causses. Treat yourself to a glimpse by discovering the Corniche des Causses by car, before setting off for other more sporting adventures in these welcoming lands. Do not miss the Aigoual and Lozère mountains, but also Mende and Langogne. To admire Lozère, you also have to look to the depths of the earth. Aven Armand and Dargilan fascinate visitors, leading them in the footsteps of explorers.
The remarkable natural sites of Lozère
There are so many remarkable sites that it is difficult to name them all. The Cévennes National Park of course, but also the gorges of Tarn and Jonte… Mont Lozère and Mont-Aigoual… The causses or the Déroc and Rubes waterfalls. In Lozère, the preservation of species is at the heart of concerns. This is how the vultures, but also the bison, the wolves of Gevaudan or the horses of Przewalski found refuge here.
Historic sites
If you want to dive into the life of farmers of old, the Caussenarde farm is an essential step. In a few minutes, you will make a 400-year leap in the history of peasant life in the Causse Mejean. But other historical monuments also await you. The Notre-Dame and Saint-Privat cathedral, the Château de la Baume or the medieval city of Sainte-Énimie, are all worth a visit.
Outdoor sports
In Lozère, lthe Tarn gorges and the Jonte gorges are exceptional playgrounds for canoeing, kayaking or rafting enthusiasts. As for hiking, let yourself be charmed by the cornices of the Causse Méjean, Stevenson's path, the salt road, a walk in the land of menhirs, or even the discovery of Nîmes-le-Vieux.