The Grand-Est and the Jura are regions known for their gastronomy and their passion for Nordic skiing. But the east of France also conceals exceptional sites to experience unforgettable hikes in an enchanting setting.
Ferms inns, unguarded refuges, vast forests of spruce, fir and oak, lakes, pastures, granite cliffs and grassy valleys delight hikers in the Vosges and Jura massifs. The beauty of the landscapes and the richness of biodiversity make these two reliefs an ideal playground for lovers of autumn walks. Today we invite you to discover three magnificent hiking in eastern France.
The 3 lakes hike
In the heart of Alsace, on the heights of Orbey, hiking of the 3 lakes is an 11-kilometer loop with a low drop. Accessible to all, it passes through Lac Noir, Lac Blanc and Lac des Truites, also called Lac du Forlet. Throughout the 5-hour walk, hikers walk through forest trails, but also along ridges to go from one lake to another. Between Lac Blanc and Lac du Forlet, the grassy plateau of Hautes Chaumes also offers a breathtaking view of the Vosges.
Once you arrive at Lac du Forlet, treat yourself to a gourmet stopover at the inn. Discover the flavors of their famous blueberry pie. This pleasant hike is a magnificent immersion in the verdant Vosges mountains. It is possible to extend it by a detour to Belmont Rocher observatory.
The crests of Mont d'Or
Take a tour of Mont-d'Or through its ridges… Then taste the delicious cheese of the same name with family or friends in a farm inn in the Jura… A whole program to be carried out with the family. Because this hike ranked easy only lasts 2 and a half hours. Seven kilometers long, it has a low vertical drop. During the walk you will cross meadows and pastures, as well as landscapes of dry stones, the murgers, vestiges of the pastoral past. In the past, the herders removed the stones from the pastures before gathering them on the murgers which delimited the pastures.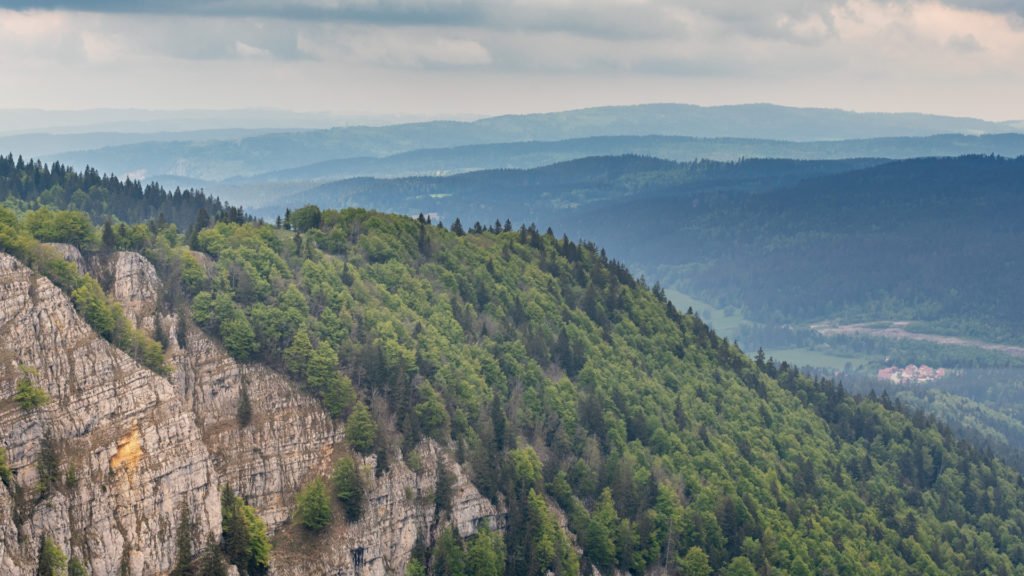 Another exceptional landscape can be appreciated during this hike. It is the breathtaking view of the Alps et The Mont Blanc. It is absolutely unforgettable on a clear day or at dawn. Several variations of this hike exist from the same parking lot. The more athletic can even choose a loop of 18 kilometers and 800 meters of vertical drop.
The Brézouard hike
From Bagenelles pass, the Tour of the Petit and Grand Brézouard offers some splendid views on the valleys of Sainte-Marie-aux-Mines and Kaysersberg, but also on the plain of Alsace, and in the distance the Black Forest. This 4-hour hike through the Vosges of medium difficulty takes hikers through forests and valleys for about ten kilometers. Do not miss to visit unguarded shelters provided by the Vosges club. They are the charm of this magical walk.