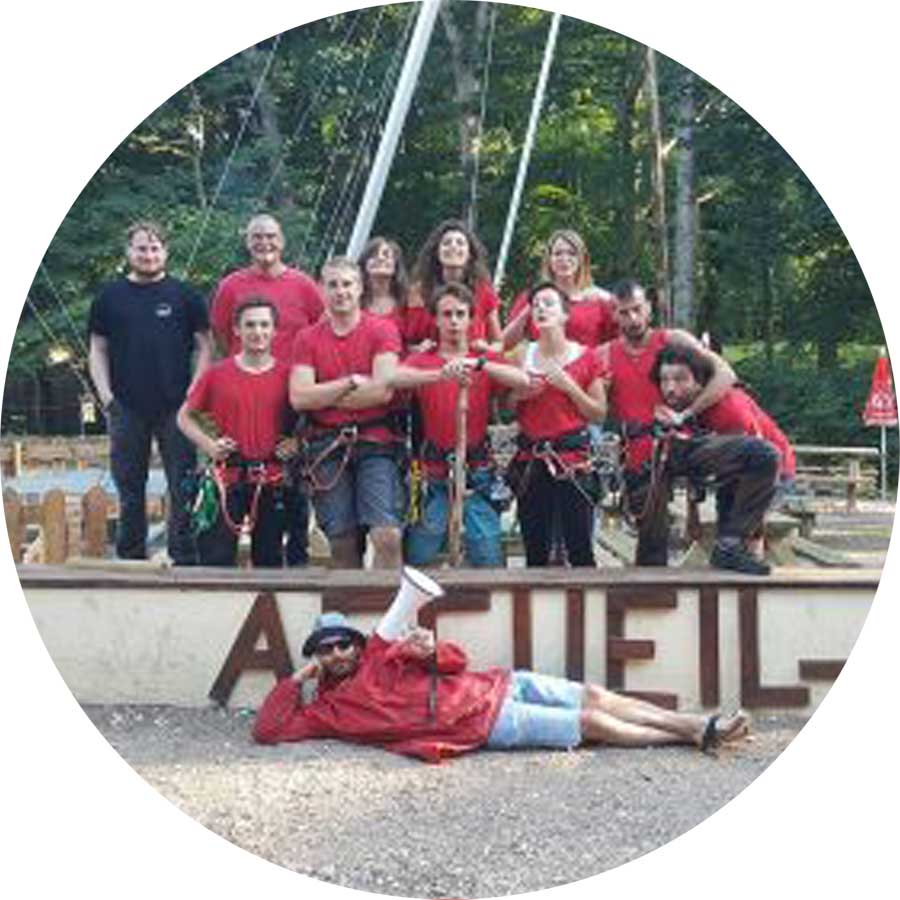 welcome to camping Woody park
A unique concept of camping in the heart of a leisure park
Want originality? Choose an unusual type of accommodation by climbing at nightfall in this atypical and cozy refuge. Hoisted on your perch thanks to the tents suspended between 2 and 8 meters from the ground, you will return to childhood and discover the time of a night the secret and nocturnal life of the forest.
Nestled in the heart of Woody park, a unique leisure and amusement park in the forest, camping will offer you many outdoor activities for young and old in a wooded park of 7 hectares.
Without time limit, from the age of 3, a multitude of tree climbing courses will be available to you, sometimes more than 20 meters high for the more adventurous! Paintball and archer fight fields can be made available to groups, and everyone can try their hand at an epic sumo fight with the body-bubble! A playground with inflatable structures will win over the children.
Finally, it will be impossible for you to leave without a detour to the beach of Fécamp, 5 minutes from the camping, or a passage through the famous Norman cliffs of Etretat. Take to the skies!
Le Woody park, it is a unique concept of camping in the heart of a leisure park. Many outdoor activities in a forest will delight young and old.
Children section
Many activities will delight your children, from the youngest to the oldest. We remind you that children under 16 must be under the permanent supervision of an adult.
They will have the opportunity to learn about the joys of tree climbing with our marmoset area, reserved for over three years old. For more information, go to the page thematiques.
A paying inflatable playground, ideal for children from 1 to 12 years old, with an inflatable castle, slide, soap bubble, etc. They will enjoy these activities at will. For your toddlers under three, free!
Nearby, a picnic area with barbecue to treat the children with your grills is at your disposal.
The Kid Box. For your children from 3 to 12 years old, a suspended ball pool and a net cage will delight your children for a maximum of sensations and this in complete safety!
Educational circuit. The foundation of Woody park resides in its majestic trees. Our forest is very diverse and has more than twenty species of trees: beeches, pines, maples, hornbeams, poplars, oaks, chestnuts ... The park is home to many wild animals: badgers, roe deer, buzzards, pheasants ... Discover their hut (squirrel, hedgehog, bird, woodlouse, owl, bat) all built by the team of Woody park. Trampling on the roots of a tree weakens it. You will therefore find in the park ropes paths not to be crossed for their longevity. Take your children on a circuit of one to two hours in the forest to learn more about the world of trees. A funny and playful game for your children to test their knowledge of trees from 5 years old! Children under 10 will be accompanied by an adult. With three levels of difficulty, there will be something for all ages. With a plan, find your way and go in search of knowledge! With this circuit, the world of the forest is offered to you ...
Activities
Come and have fun at the top of the trees on the various tree climbing courses. To find out more, go to the page thematiques.
Many activities will take you out of your daily life to fill up with sensations and good humor! Try the adventure and take part in the organized Olympics which combine several activities! Good mood guaranteed!
The bungy ejection. Looking for thrills? The bungy ejection is for you! This activity will be reserved for people over 12 years old, measuring over 1,40 m and weighing between 35 and 100 kgs. Take off at nearly 18 meters high and over 90 km / h in less than a second! You will take 3,5 G for a max of adrenaline!
The archers fight, open to over 10s and groups of at least 6 people. You will discover archery in a different way, in real fights with complete equipment for your safety. Come and compete with family or friends in a beautiful wooded area with targets for training and several possible scenarios. Robin Hood had better watch out!
Paintball. You will benefit from a private land for each group, within an exceptional wooded natural setting. The activity is open to over 16s; authorization will be required for minors. Six players will be needed to participate in the activity on weekends, two the rest of the week. You will find balls, smoke bombs and necessary equipment for sale on site. Protection system, compressed air launchers, smoke bombs and even disguises will be provided to you! Now it's up to you to see if you feel more like an intrepid warrior or a kamikaze bunny!
The bubble body, open to groups of 4 people over 1,40 m tall. The body-bubble comes in three "sport" activities:
- try your luck in soccer by trying to score inflated goals against the opposing team.
- test bowling mode and play the role of the ball trying to fold your opponents.
- engage in close combat for a memorable sumo fight!
Sumo wrestling. If you are two people and you are 1,20m or more, go ahead and take part in a duel in our sumo outfits!
Human Babyfoot. Unconditional fan of table football? Come live the experience in the heart of the field! This will require 6 people measuring over 1,20 m.
Services
For the occupants of the suspended tents, mattresses and sheets will be provided. You will find a lamp rental service. A barbecue is at your disposal, as well as a self-service mini-bar 24/24 for your nightly cravings!
You can enjoy your drinks on a beautiful covered wooden terrace with a view of the park. A large picnic area with shelter in case of rain is at your disposal within the park.
Activities
Different packs for organizing your events will be offered to make them unforgettable!
Bachelor Party Pack, in which you will enjoy a minimum of two activities to choose from, breakfast, the provision of a barbecue and one drink per person. And for a group of 8 people, the Woody park will be happy to offer a suit to the future groom! Several unforgettable activities, from jet skiing to parachuting, will be offered to you by our partners. For more information, find us on the page tourism.
Different services are organized within the park for those concerned:
fake bungee jump : an animator will take care of the preparations to simulate a real bungee jump! Crazy laughter guaranteed!
barbecue basket : the barbecue, a table and the dishes will be at your disposal and the shopping will be done for you! You will enjoy a convivial meal with friends around grilled meats, mixed salads, crisps, grilled camembert cheese and fruit.
the costumes : you will find costumes for hire to make you the perfect bachelor ready for marriage! There will be something for everyone from rabbit to chick, from Mario to Luigi, whether you are shy or extrovert, you cannot not find the costume that suits you!
Different formulas with various activities will be suggested to you for a maximum of choice!
Child Birthday : for your children's birthday, Woody park will offer you several activities depending on their size (less than 1,20m / more than 1,20m) and their age. You will be able to benefit from an optional snack including marbled cake, fruit juice and sodas, party accessories and pinatas.
Events : for a wedding, a birthday or any other event, rental activities will be offered for a day or more, and a tailor-made quote will be made for an unforgettable party!
Works councils : come and have fun and enjoy sporting and funny moments to unite your team. Participants will carry out fun and sporting activities, but will also be able to benefit from a quiet working room, ordering coffee, breakfasts, cold buffets, aperitifs, barbecue and accommodation in suspended tents, unusual accommodation or in partner chalets.
Services
Restauration
breakfasts served from 9 a.m. to 12 p.m.
Event planning
birthdays
bachelor parties
business seminars
etc.
Other
lamp rental
organization of Olympiads with several activities
Entertainment
Playful
archery fight
bubble body
paintball
target
bungy ejection
sumo fights
human foosball
Youth
playground
hanging ball pool
inflatable
Equipment
Restauration
self-service bar 24/24
barbecue
Other
covered terrace
picnic area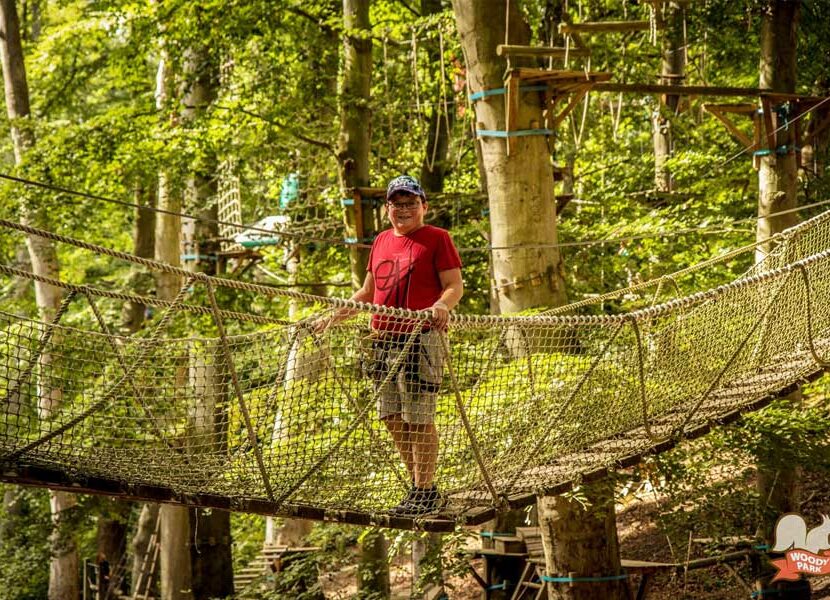 Themes
Le Woody park, it is an amusement and leisure park to live a unique experience perched in the trees! Tree climbing courses for all ages will be offered in a 7 hectare wooded park 5 minutes from Fécamp beach, in Normandy.
Accommodation
Le Woody park, it is both a camping and an extraordinary leisure park, several meters above the ground! Live a unique experience closer to nature, perched in treehouses! Your hotel is the forest! A night closer to the stars awaits you ...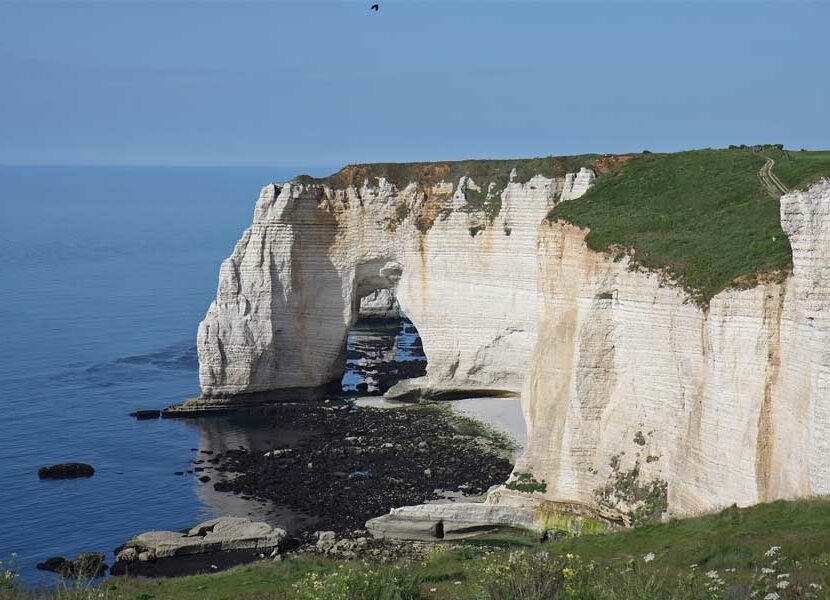 Tourism
By stopping at Woody park, all of Normandy and the Alabaster Coast are available to you!