welcome to camping of the Mas de Champel
If you are looking for a natural, precious and authentic setting, you will be delighted by the warm atmosphere of the Mas de Champel. At the heart ofArdèche and its incomparable ecological heritage, come and enjoy this camping and the variety of activities combining sport culture or relaxation.
This four-star hotel is located next to the Gorges de l'Eyrieux and offers you a range of accommodation packages adapted to hikers and cyclists. You will have the choice of beautiful pitches for tents (sometimes perched on stilts), often shaded tipis, cottages, mobile homes and bungalows.
Ideal for a comfortable change of scenery, the location of Mas de Champel will allow you the refreshing pleasures of the swimming pool or canoe in the river, after sunny hikes. Unless you have favored the Sport mountain bike, cultural visits to heritage, or the "Must" of Ardèche! Within the camping, volleyball, archery, table tennis and entertainment will delight young and old. And you will surely be tempted by the spa, or the sauna! Note a very practical on-site diet, appreciable after your trips to "theAquarok Adventure"Or"Dolce Via".
The 4 stars and 4 wooded hectares of Mas de Champel deserve your attention!
A real estate
Extremely well located in the privacy of the Ardèche, this open-air accommodation reserves more than 4 hectares with 112 spacious pitches (between 80 and 100 m2), including 56 for rental, and 56 for your own tents, caravans, and camping-cars.
Fans of the "little Queen" will be spoiled because hikers' pitches are provided. Nature is generous there, the shade of pines and deciduous trees, the beneficial freshness of the Eyrieux river, sun and the sweetness of life on the private sandy beach. The key words are Nature and Family, to offer you respect for your desires for relaxation, conviviality, and discoveries of the region.
Between mobile homes, canvas bungalows, Tipi tents, you will be spoiled for choice, always comfortable, with personal terrace, adequate equipment, and a touch of originality for lovers of the Bivouac spirit. Wood is a recurring value within the camping, and the original buildings are respected in the noble stone of the country. Different levels of land, give a village look camping traditional. (Namely, for these reasons, that tourists with reduced mobility, very welcome, would benefit from the support of a loved one. A suitable location, near a toilet block is reserved for them if they wish.)
Along the water: Activities and games
The great joys of this camping are the attractions for lovers of water and water sports. First, the Eyrieux river, where you can swim, paddle, fish with your equipment, and laze on the beach. Then, the long heated swimming pool, so pleasant for sportsmen of all ages to swim. A great "plus" lies in the pool and paddling pools which secure children and brighten them up with water games and inflatable animals.
Solarium, deckchairs and "straw" parasols are a summer treat! Very well equipped, the camping Mas de Champel allows you active days while staying on site if you wish: table tennis, children's play area, beach volleyball, trampoline, pétanque. A pool table, library, video games and TV await you at reception.
Useful services for eating out
The restaurant, with its two terraces, allows you to "unwind" from your constraints: breakfasts, snack at noon, evening meal, even themed dinners, ice cream! The very welcoming staff offer ice packs to reserve, (a great privilege for hikers), or refrigerate your own.
By reserving, you will have fresh bread and pastries of the day. Half-board on request is possible.
As gas barbecues are allowed, your outdoor meals will be fond memories. At the reception, a convenience store, toys, postcards, local products, receipt of mail and messages make your life easier. If you are however dependent on a supermarket, the closest is in St Sauveur de Montagut (5km), but the local shops, post office and pharmacy included, are at your disposal in the village of Ollières, as well as the weekly market.
Softness of the place and privileged environment
You can book your canoes, kayaks from the camping, and of course go hiking or cycling, 75 km in the Eyrieux valley, on the nearby Dolce Via, or go horseback riding just 10 km away. An old railway line is an ideal route. For these hikes, what panoramas, what a kaleidoscope of hilltop villages, feudal castles, surprises also thanks to the small heritage: Chapels, bridges, mule trails, stone huts of the charcoal burners! Artists, botanists, open your eyes, your ears, sharpen your senses: junipers, cistus, lavender… "Botanical villages" help you to get to know the region better. And, take the time to visit the unbeatable exceptional sites: Aven d'Orgnac, Grotte Chauvet / Pont d'Arc, Tour de l'Horloge, Château de la Voulte sur Rhône, 13 km .
Let yourself go, bikers, cyclists, motorists, along the Gorges de l'Eyrieux, gaze into the canyons, and come back to camping take advantage of the Well-Being Space; the sauna, the Spa will be delights to treat yourself, after your beautiful sightseeing trips. You will choose your packages, "Special couple" or "Dolce Via" for example by reservation. Thanks to our partner Claire Fidanza, specialized in Thai massage, well-being and relaxation, you will be revitalized and relaxed from head to toe! Traditional Thai massage, oiled Thai massage, Thai foot massage, Thai massage for pregnant women… You will have the choice and the privilege of discovering or rediscovering new practices that are so zen…
Practical
You can arrive on a day that suits you. The animals are companions, kept on a leash and must respect the standards of good behavior. Heated sanitary facilities. At the reception, you will take your tokens for the washing machine and dryer, laundry if necessary. Sheets available for hire.
Finally, the camping Mas de Champel, a privileged vacation spot, respects government recommendations, and ensures a professional and secure welcome.
For more information on the thematiques activities of the camping, go to the page Themes. To choose your accommodation option, go to the page Accommodation.
Services
Restauration
Snack restaurant
Fresh bread and pastries
Half board on request
Trade
Grocery store
Ice packs to reserve
Equipment
Aquatic center
Heated pool
Paddling pool and solarium
Water jets and inflatable animals
Leisure
Ping-pong
Children's play area
Beach volley
Trampoline
Pétanque
billiards
Other
Bookcase
Video games and TV area
Washing machine dryer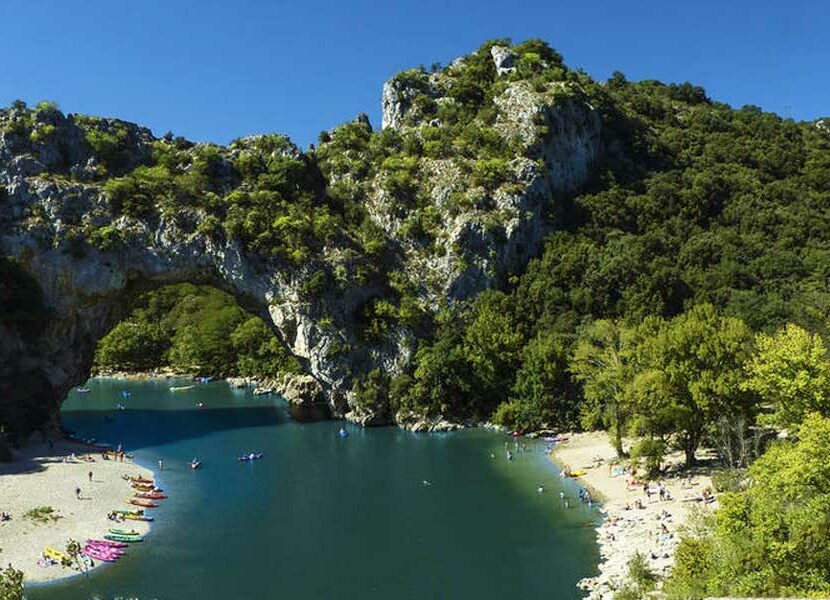 Themes
Au Mas de Champel, these are 100% nature vacations that we offer in a region prized for its nature, its landscapes and the incredible diversity of sports activities to be practiced in the heart of nature, hiking, cycling and canoeing are king!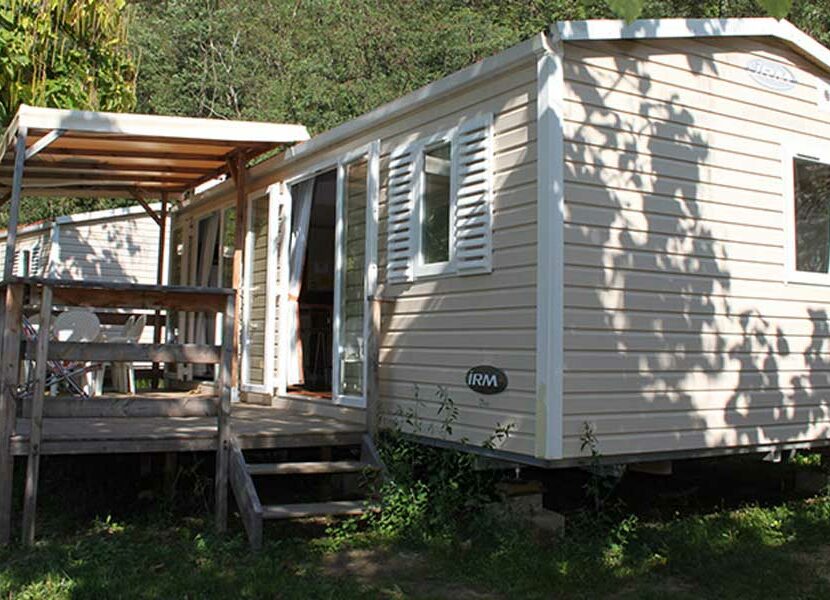 Accommodation
On the banks of the Eyrieux river, and on the edge of the Dolce Via, we offer comfortable and unusual accommodation, located on the terrace. These mobile homes, bungalows and bivouacs, safari tents offer a breathtaking view of nature and can accommodate between 2 and 8 people.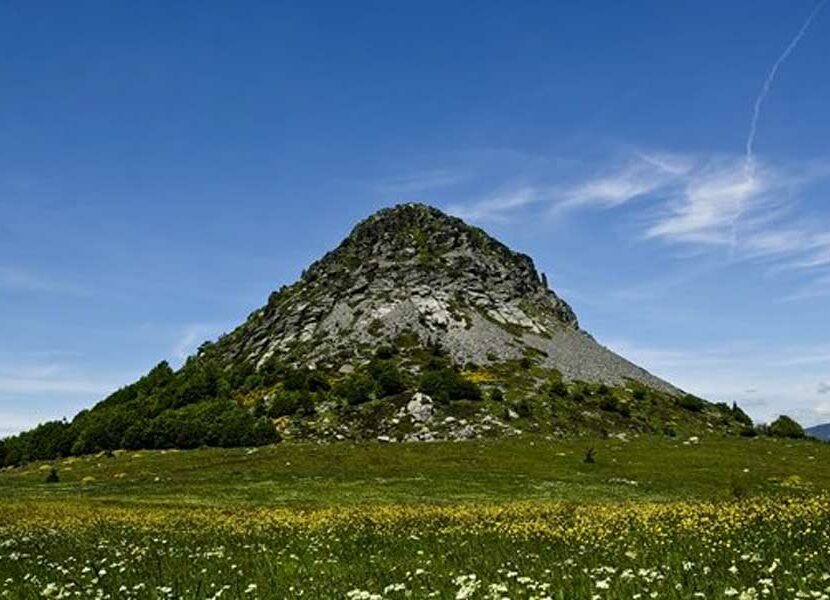 Tourism
Since camping Mas de Champel, discover all the sports, nature and cultural activities of the Ardèche.