Le Ranch de Calamity Jane
Book your stay directly on our website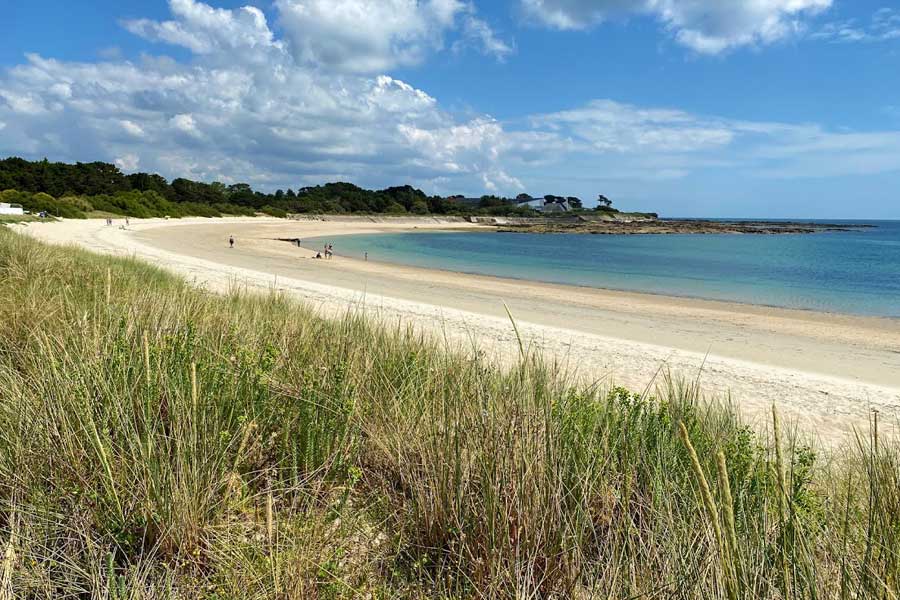 A natural setting
The dilemma is alleviated by short distances. We can therefore leave the amusing menagerie of Nadine and Fred from time to time, to the ocean. We can momentarily abandon Davy Crockett for Gallic stelae, or even forget the pancakes with maple syrup, to taste the pancakes and other local delicacies, washed down with Breton cider. Languages ​​idic, it is the river Blavet which flows into the bay of Lorient. It is also Notre-Dame-des-Fleurs of the XVth century. It is also the Trébihant lock on the canal sadly dug by the convicts of Brest. You will be lucky if you take the towpath, on foot or by bike, between Pontivy and Polvern, with a gentle way of life. Know that the roman road circulates in filigree in the surroundings. Menhirs have also been erected for thousands of years by our ancestors.
Hiking trails
Saint-Urlo, Dezinio, Lanveur… The Pont Kerran circuit is easy, over 4,5 kilometres. You will discover washhouses, fountains, mills and bridges. In mid-August, don't miss the Fête des Gaulois! The cave of Jean II, on the edge of Lake Liziec in Séné, towards Vannes, will challenge you. This open-air chaos of stones is a creation of Mother Nature. It has always attracted walkers. Brassée crosses will enliven the passions of photography, graphics and those of collectors. Artists, you will be moved by these testimonies of eternity. Languidic is also ponds, and who says ponds, says fishing in the ponds of Coëtrivas, Rodés, Petit Bois. So many spots for hikers and lovers of peace.
Fishing for perch, zander and pike
Whether you fish with a line, fly or lures, holds are waiting for you. Unless you prefer to glide along the water on your canoe. Languidic lock house will provide you with a Topoguide. Pay attention to the regulations, of course! And then, fishing is also the ocean. If you are attracted, contact the Morbihan Fishing Federation, in Saint-Avé. They answer all your questions.
Ocean pleasures
You will be served by joining 25 minutes from the Camping Calamity Jane Ranch, the gentle beaches of Larmor (the sea in Breton). And there! Everyone finds their happiness. Surfing, kite surfing, paddle boarding…
The Kerguelen Sports Ocean offers dinghies or catamarans, stand up paddle, windsurfing boards. You will evolve under the watchful eye of instructors. You can even treat yourself to a guided walk. Your captain will tell you about the secrets of the bay, its fauna and flora. You will be spoiled!
Kerguélen Ocean Park is protected. The 82 hectares of the park will appeal to amateur or experienced bird watchers. Take your binoculars, follow the signs and take advantage of the observatories, especially during periods of low seas. Enchanted will lead your steps over 4 kilometers in a historical or imaginary world, ranging from surprises to treasure hunts.
The beaches of Larmor will also be your destinations. Beaches of Toulhars, Port Maria and its bars, restaurants, well sheltered Loqueltas or Kerguélen. If you prefer to walk, the 6 kilometers of fine sand will attract your aquatic walk. larmor, a former sardine port, will also enchant you.
Heritage and culture
Between old port, Fort de Kernevel of the XVIIIth and pretty XNUMXth century villasth century, you will be delighted by a rich and varied heritage. You can take a Batobus to reach the picturesque night market of Port Louis Tuesday night. You will follow the Festivals of July and August, as well as concerts, parties, exhibitions or fireworks. If you are a music lover, a Jazz festival takes place there. Without counting the Celtic Circle, from November 11 for fans of traditional songs and dances.
Trail
If you like trail running, your physical form will encourage you on the 177 kilometers around the bay. 11 hikes and 4 workshops, will be revealed to you on Ultra Raid of Morbihan. The trail of the ramparts is accessible to the greatest number, thanks to the 7 kilometers around Vannes.
Vannes, Auray and Island of GRoix
Valves
This town is only 35 minutes from Languidic. 272 buildings are listed as Historic Monuments. Ramparts, towers, gardens, XNUMXth century wash houseth century or even Place Henri IV... You will stroll between the Middle Ages with cob houses and half-timbered houses, and the rich XVIIth century. Then you will go to the peninsula of Conleau, which opens onto the gulf and its sunset lights.
The Medieval City of Auray and Port Saint-Goustan
The alleys, the Place aux Roues, the workshops and Art Galleries will also seduce you. The Sainte-Anne Basilica or the Monday market are also worth a visit.
The island of Groix
From Lorient you can reach the island of Groix and the island of garnets. On foot or by bike, you will travel through a natural heritage that has earned it the label of Pépite de Lorient.
Breton gastronomy
You will awaken your taste buds with oysters and seafood. The products are sometimes pampered by smoking (salmon, tarama, sea urchin coral). What delights at breakfast, to spread the local salted butter, or to taste the Gochtial whose secrets are transmitted from generation to generation. A very tasty Tome de Rhuys will also accompany your morning snacks. Biscuits from local producers have a solid reputation.
The picturesque markets will delight you. And you can even, with "Bretagne Food Tour", take culinary walks! (All this by reservation). Producers are struggling. A saline in St Armel can open your interest in salt marshes and the profession of salt worker.
Beers and spirits
Oenologists and amateurs, taste the local beer, and visit the producers. They are eager to share their know-how. The Awen Brew Pub will open its doors to you, as well as the Domaine Distillerie du Gorsello in Sulniac. They are specialists in apple products: ciders, juices, vinegars and spirits.
So in the evening at camping the Ranch of Calamity Jane, you will plunge back to the conquest of the west, tasting your new experiences of this beautiful corner of the west of… France.
Explore our guide for holidays
Articles to help you prepare your holidays!