Camping Le Lac de Saint Point Lamartine – Bourgogne du Sud
Book your stay directly on our website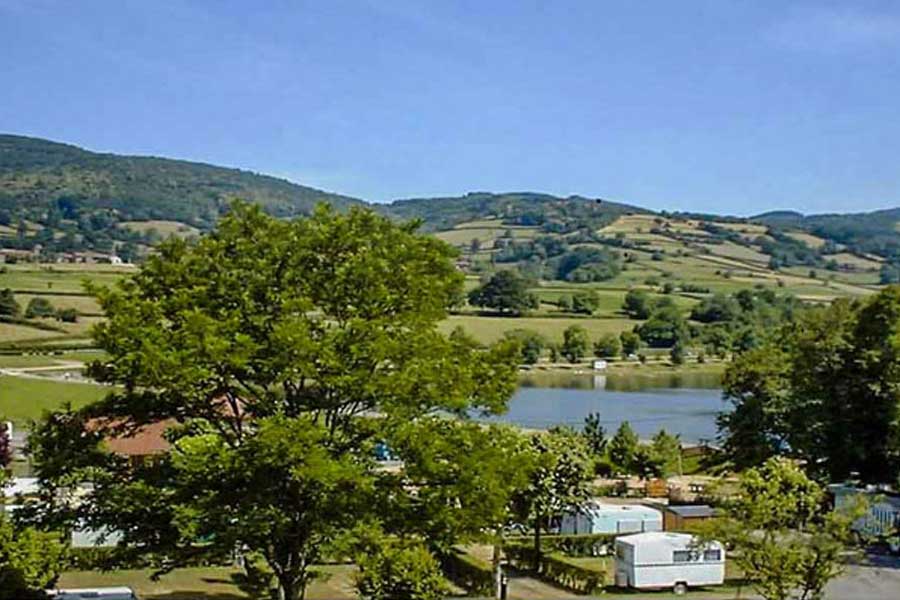 Saint-Point Lake
At the foot of the hills, Saint-Point lake is a delight of peace. You will put your bath towels, games and parasols on one of the many dedicated green spaces. Pedal boats await you there to slide along the banks. Far from the hustle and bustle, take the opportunity to take a few dives and water somersaults with your family, or with your loved ones.
On the lake, spaces are reserved for fishermen. Pontoons facilitate access. You will place your equipment there to watch for carp and pike, zander and perch. The Grosne River and its 100 kilometers hosts several torrents. It ensures you pure water and sometimes even trout. Bring your trusty gear.
Outdoor sports
By bike
If you are on a bike or mountain bike, some circuits become real historical and sporting dives.
Cluny-Lys-Cormatin, 34 km
Romanesque churches and chapels, 20 km
Churches Chapels and Castles, 50 km
Cols du Clunisois, 82 km
Tour of the 20 Romanesque Churches, 100 km
Everywhere, take the time. Flora is an irreplaceable treasure. Their evocative names cannot leave you indifferent. Eyebrows of Venus, Aconite kills Wolf, Garlic of the Bears, Orchis Bouffon, Gueules de Lion, Langue de pic are waiting for you.
Walking
Hikers will appreciate Villages of Character walks Clunisois, Col de la Percée, Croix Montmain. Walk along the Natura 2000 area of ​​the Grosne basin.
The Route 71 Calendar of the Tourist Office also offers 28 thematiques trails, including one more specifically dedicated to People with Reduced Mobility. Day or night, these walks will satisfy your appetite.
Also opt for the application all trails, and discover the hikes around the camping.
Unforgettable CLuny
In the Middle Ages, monastic culture radiated from the medieval Benedictine abbey of Cluny to all of Europe. Various guided tours offer a wide range of discoveries. They are all more exciting than each other. Adventure game in June, Today to Tomorrow festival in July… History on show, historical wandering in the city, gourmet visit to the top of the Tour des Fromages… There is something for everyone. The museum of art and archeology and the old library also enrich the journey.
Monumental Macon
Various guided tours are offered at Builder. Monumental Mâcon, unusual Mâcon and diving in its traboules... Or even Mâcon with the family, fun and sensory, Mâcon gourmand and the visit of the Ursulines museum... But also Mâcon and Lamartine or Macon Wine Tour.
You will develop your erudition at Lamartine Museum. If this poet keeps you spellbound, continue your pilgrimage to Prissé, and the Solitude de Monceau, which belongs to his family, or to the Château de Pierreclos, now a center of winemaking art. You will make a detour to the Vieux-Saint-Vincent Cathedral and the Saint-Laurent Bridge.
THE Burgundy Wine Route
Oenology is in the spotlight around the Camping from Lake Saint Point. A multitude of areas will enlighten you with its know-how, and allow tastings that will introduce you to a festival of flavors.
The Castle of Pierreclos opens its doors to you. It traces medieval life through various activities and anecdotes. You will also like to take the time to visit the cellars, marveling at the know-how of the passionate winegrowers. White Chardonnay, gold, straw, with a nose of rose, honeysuckle and acacia.
In Cluny, the first monks put the heritage offered by Guillaume 1er in value, to work what will become the Côte d'Or vineyard.
Merlin or Auvigne houses
Areas des Vignes du Maynes, Maillet Saumaize, de la Bongran, Guillot-Broux.
Your hosts will teach you about the smoothness, subtlety and minerality of Pinot Noir, Gamay Aligot and Chardonnay. Don't forget some local treasures such as Pouilly-Fuissé, Saint Veran-Poncétys, Corton, Pommard, Chablis and Gevrey Chambertin.
Explore our guide for holidays
Articles to help you prepare your holidays!