Book your stay directly on our website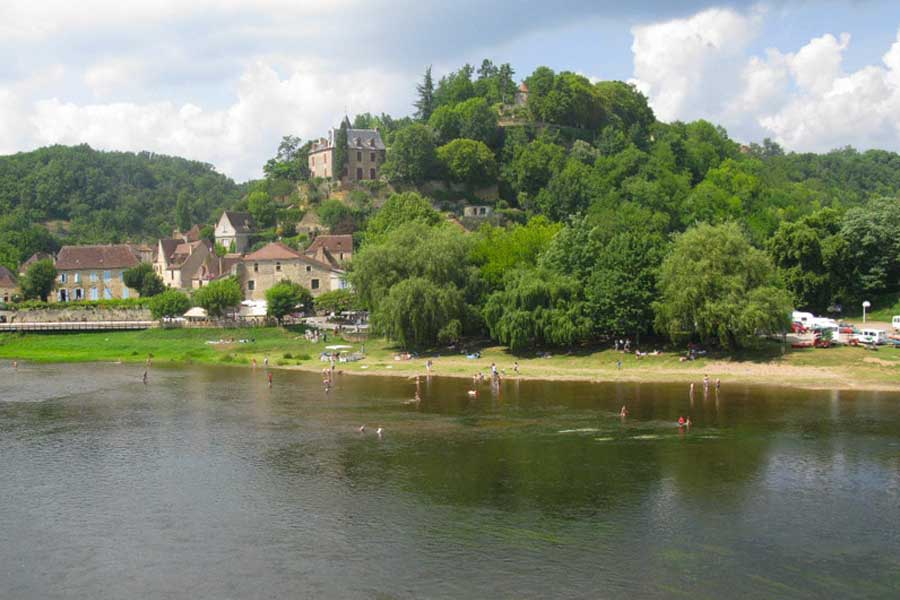 Breathtaking tours
Land of a thousand and one castles… Land of celebrities where Montaigne, Fénelon, Brantôme, Bertran de Born, Elisée Reclus and Joséphine Baker lived… Cradle of civilisation, but also the heart of French gastronomy. Dordogne awaits you from Camping The Daguet. By circulating in the Dordogne valley, you will immerse yourself in an extraordinary historical, cultural and architectural heritage. Most beautiful villages in France, historical monuments, world heritage are plethora in this South of the Dordogne.
Reignac of the XVIrd century
Tursac is a cliff castle
The castles of Losse XVIrd and Commarque XIIrd
The Château des Milandes cultivates with intelligence and passion the memory of Joséphine Baker.
Book in advance to discover Lascaux II or Lascaux IV, international center of parietal art.
Develop your imagination in the troglodyte village of La Madeleine.
Les Eyzies
The gardens of Marqueyssac
Domme, the history of the Templars and its cave
Castelnaud La Chapelle, the Museum of War and the Middle Ages
Beynac et Cazenac, its primitive keep and its XNUMXth century kitchen
Belvès
Sarlat
This city of art and history has the highest density of listed historical monuments. Stroll, get lost in Sarlat... Then, follow the fun, historical and artistic tours that will take you by the hand for an exciting discovery of this medieval and Renaissance city. The Lantern of the Dead Moors will intrigue you. Go see the artists, craftsmen and greet the Onlooker above the Three Geese.
Along the water
Swimming and water sports
Since Camping The Daguet, you can enjoy kayaking. Go down to the river and choose between the beaches of Calviac, Carsac, Castelnaud bridge, Cénac bridge, near Domme, Coux and Bigaroque, to swim or rent nautical equipment. The paddle is in the spotlight these days. Water shoes are recommended for your youngsters… And for you too!
Fishing
The Dordogne is rich in fish. It is one of the cleanest rivers in Europe. You can even fly fish if you are an expert. Then will come to you char, trout, pike, zander or carp. If you catch about fifteen bleak per person, you will enjoy preparing them delicately fried with a hint of garlic. And then, the respectable migratory shad, eel and salmon benefit from the fish ladders and elevators, which you will try to see on the course of the river.
Hiking
Choose the app all trails and discover the hikes around the camping. Several routes are quickly accessible.
Paths of Meunier
In Vezac or Carsac, for 9 to 10 kilometers classified as easy.
Bastide of Domme
18 kilometers await you there
Gourmet Hike
17 kilometers to Sainte-Nathalene
Bicycle tourism
By bike, the 38 kilometers of the Tour de Périgord or the 58 kilometers of the loop of Sarladais and the castles of Dordogne, are essential routes. If you are in good shape, let yourself be charmed by the Gageac-la-Viderente route.
Explore our guide for holidays
Articles to help you prepare your holidays!