Book your stay directly on our website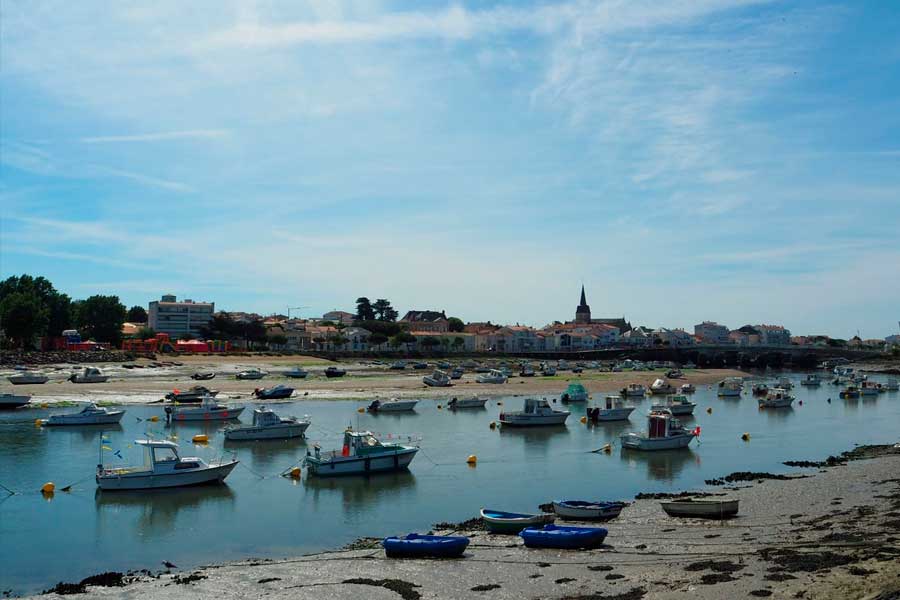 The ocean as far as the eye can see
Fine sandy beaches and nautical pleasures await you in Vendée. Sea or sunbathing, paddle, sailing, canoeing and snorkeling are on the program. Also try water walking which spreads so many benefits. Kitesurfing is a great experience for lovers of wind and waves. Searching for shells, driftwood or precious pebbles are also essential. The beaches of 60 Bornes, Dunes at Brétignolles, Demoiselles, Mouettes, Riez and Sion are an invitation to relax. Parents can take advantage of the children's clubs on the Plage de Sion, the Grande Plage in St Gilles Croix de Vie, or even that of the Belugas. Games, trampolines, or Olympics await your children. Optimists, catamarans, boards or even sand yachts are at your disposal at the Demoiselles nautical base.
RANDONNÉE
Courageous in the early morning, you will love the SPPL coastal footpath, from the Demoiselles beach to La Pelle à Porteau. You will follow the corniche on the 13 kilometers of the old customs road. But other walks and hikes also await you.
Loop 28 and its educational panels
Loop 7, from Brétignolles sur Mer
Quiet 3 kilometers from the Marais de Plessis, from Fenouiller
Loop 9, called Muguet, starting from Chaize Giraud.
Grosse Terre lighthouse trail, for 2 kilometers
Trails of Brem sur Mer, or St Gilles Croix de Vie
Circuit of the Villages in St Révérend
Bikes
Bikes rented from camping can be delivered to you by Cyclo Riez. Mountain bikes, VTC, tandems, electric bikes, children, teenagers, and the necessary equipment are at your disposal.
Circuit Saint-Hilaire in Saint-Jean-de-Monts
11 km between beaches and forests
The "Vendée Vélodyssée" connects Brem-sur-Mer and Les Sables d'Olonnes, over 17 kilometers
pony, horse and donkey
5 minutes from Camping the Prévoté, the Aigrettes pony club offers lessons and courses. Ânes Alpha Bêtes, in Saint-Hilaire, is a friendly base for young people. Havre de Vie in Saint-Jean-de-Monts offers horseback riding on the edge of marshes or on the edge of forests. The Ecurie du Bois de la Touche offers lessons, rides, driving.
fishing
Sea fishing
L'Ami du Pêcheur in Saint-Gilles will take you on an 18-meter boat. Fishing for mackerel, conger, horse mackerel, pollock or bass…
Shore fishing
The Atlantic is also fishing on the foreshore. These beautiful spaces to discover at low tide to look for mussels, scallops, winkles and shrimps. Bring a landing net, bucket, rake, penknife and a ruler to measure your finds. The best times are at high tides, coefficient greater than 90. Observe the pools between the rocks and the twists under the sand. The beaches of Sion, from La Pelle to Saint-Hilaire, or the Grande Plage of St Gilles, conceal real treasures.
maritime heritage
In Sion, guided tours take place from August 6 to 9, during the Maritime Days. Also visit the Saint-Hilaire church. The monumental polychrome altarpieces are listed as Historic Monuments. The Chapelle Notre-Dame de la Pitié is for its part, a testimony of the XVrd century.
The Salt Route
The salt marshes of La Vie, on the right bank of the coastal river, are classified Natura 2000. On reservation, you will enter into the tradition, learn the methods of exploitation, or the trade of the salt workers. A storytelling discovery can delight you in a horse-drawn carriage, from July 6 to August 24.
Forests
2 hectares of State forest extend from Fromentine to St Hilaire de Riez. This green gap created since 280 slows down the evolution of the dunes. It eventually became a biodiversity sanctuary. Maritime pines, holm oaks, acacia and ash are home to many animal species, including martens.
Parks and museums
Sables Zoo
Vendée aquarium
Shell Museum
Museum of Popular Traditions
LOCAL PRODUCTS
Wine tourism
The 31 km of the Terroir de Brem wine route and the 39 km of the Côte de Lumière road take you through the wine-growing landscapes of the Brem AOCs. Visit the cellars and cellars, and become tastevins for a day. There is no shortage of Estates: Domaine Saint-Nicolas, Cave Pajot, Domaine l'Orée du Sabia, Domaine des Granges or Lux en Roc, are all incentives to listen to passionate professionals.
Gastronomy
In an exceptional setting, savor a moment at the Bar à Huîtres de la Chabossière. Blue fish, emblematic such as sardines, mackerel, anchovies play with the Rose of St Gilles Croix de Vie, an exceptional shrimp. At L'Escale Pêche, follow the testimonies of the professionals. Let yourself be carried away by the pedagogy and their desire to transmit. Exhibitions, scenographies, fun workshops, will enlighten you on these luxury products that you find on your plates.
around the sardine
The Atelier de la Sardine is a museum, gallery and shop all rolled into one. Taste the Pearl of the Gods after discovering its history, and the techniques of selection and preparation.
Documentation to download
Explore our guide for holidays
Articles to help you prepare your holidays!