Camping de Mindin – Camping Qualité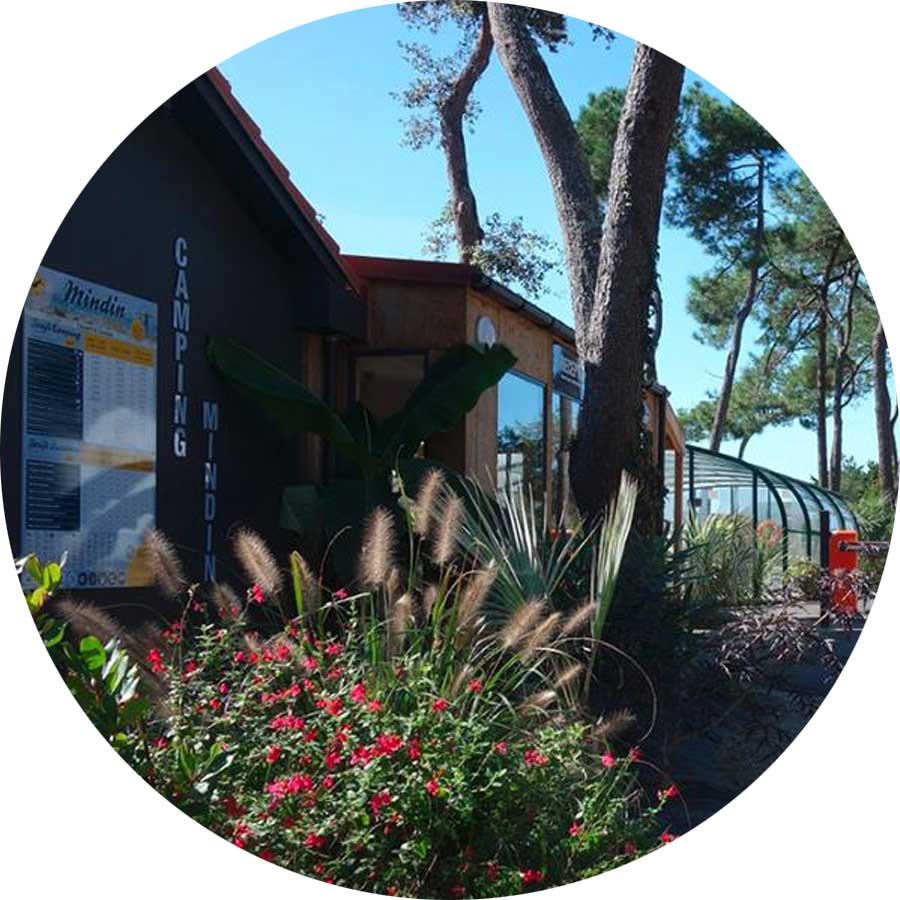 welcome to camping FROM MINDIN
The joy of camping by the sea
Welcome to Saint-Brévin-les-Pins, between Saint-Nazaire and Pornic. the Camping by Mindin offers you direct access to the sea and to seaside activities. Within it, you will enjoy, with your friends and your children, the covered and heated swimming pool, the playground and go-karts. Many facilities will also be at your disposal (bar, snack bar, grocery store, etc.). Finally, for your pleasure, the owners will organize activities!
Nature, sport and well-being
Le Camping by Mindin is open year round. A special package and reception are provided for camping-cars and cycle tourists. So if you want to get away from it all, you will have the choice of practicing sports or cultural activities to explore South Brittany, Loire Atlantique or Vendée. Indeed the very privileged situation of Camping by Mindin is suitable for hiking, biking and wildlife viewing. In addition, you will find tips for exploring the local heritage (salt marshes, Saint Nazaire construction sites, Brière natural park, etc.). You will let yourself go according to your desires ...
Practical advice to Camping by Mindin
Between Vendée and Brittany, the Camping by Mindin is so well equipped and pleasant that it will quickly become your address of choice for holidays in the region. Its telephone reception opens from 9 a.m. to 00 p.m. on weekdays, until 19 p.m. on weekends. The reception opens from 00 p.m. to 18 p.m. on weekdays out of season and until 00 p.m. on weekends out of season (closed on Sundays in very low season). In July and August, the reception opens from 14 a.m. to 19 p.m. and from 18 p.m. to 9 p.m. and the reception of newcomers is provided from 12 a.m. to 14:19 p.m. (possibility of reception 9 hours a day thanks to a code).
Also in high season, the bar and the grocery store open from 8:30 am to midnight. The snack bar is open from 12 p.m. to 14:30 p.m. and from 19 p.m. to 21 p.m. For your safety and peace of mind, the access gate closes in summer between 23 p.m. and 8 a.m. For your comfort, you will have gas bottles, disposable sheets for sale, a mail reception service, collective barbecues available at various places in the area. camping. And finally Wifi is available!
Snack bar and grocery store
You will find at Camping by Mindin general food, ice creams to refresh you. The bar, snack bar and pizzeria offer take-away meals and breakfasts.
The bar and the grocery store are open from 8:30 a.m. to midnight only from July 7 to August 29. The snack bar opens from 12 p.m. to 14:30 p.m. and from 19 p.m. to 21 p.m.
Activities and leisure
The covered and heated swimming pool opens from April to the end of September. And then events are organized every day in July and August (from 07/07 to 28/08/21, except Saturdays). In the evening you will love themed evenings, game evenings, dance evenings. You will warm up your voice at karaoke. During the day you will refine your taste for competition during sports tournaments. You will participate in animated meals, aperitif games, children's entertainment. Finally, you can let your toddlers safely enjoy the playground. The youngest will be all the more pampered as certain activities are dedicated to them: creative hobbies, team games, face painting, cooking workshops or even games on the beach with the animators ... In short, laughter and good humor will be waiting for you. you !
Teenagers, for their part, will take part in sports tournaments (table tennis, table football, beach volleyball, etc.) or have a good time in the games room.
The entire team of Camping by Mindin will accompany you for family vacations in a relaxed atmosphere. So go ahead and choose your accommodation on the page Accommodation or program your activities using the page Themes !
Services
Restauration
Snack bar grocery store (July and August only)
Breakfast on order
Other
Service area for camping cars
Health
Babies room
Iron
Wi-Fi network
Other
Mail
Electricity: amperage supplied 16 A
Gas bottles
Washing machine and dryer (paid services)
Sale of disposable sheets (for a fee)
Entertainment
Kids
Daily entertainment
In July and August (from 07/07 to 28/08/21, except Saturdays)
Youth
Creative hobbies
Team games
Makeup
Cooking workshops
Games on the beach with the animators
teens
Sports tournaments for teens: Ping-pong, table football, beach volleyball
Evening
Theme evenings
Game evenings
Dance evenings
Karaoke
Other animations
Sports tournaments
Animated meals
Games
Aperitif
Equipments
Aquatic activities
Indoor heated swimming pool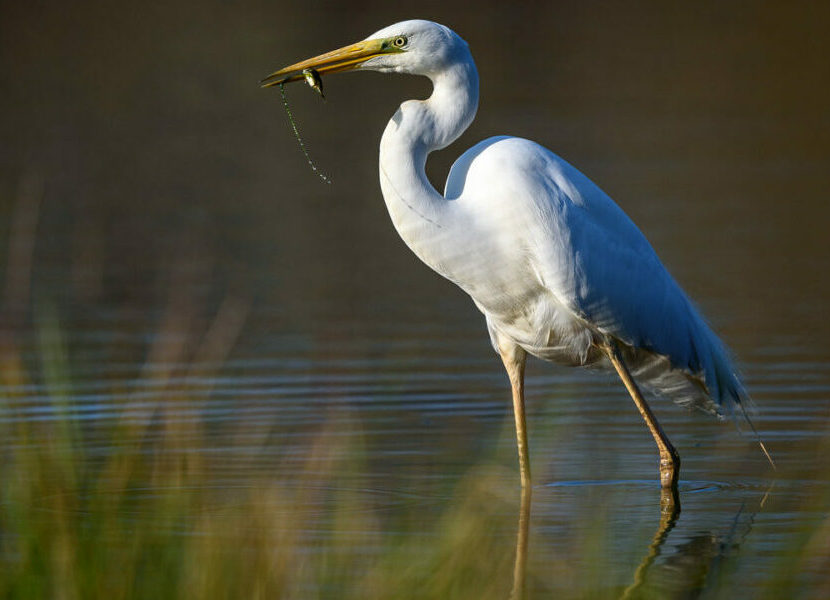 Themes
If the activities "Heritage Discovery","Hiking","Bicycle tourism"And"Wildlife observation"Are part of your holiday interests, so look no further, the Cmindin amping between South Brittany and Loire Atlantique on the Opal Coast, is the ideal address for you to discover the riches of the region.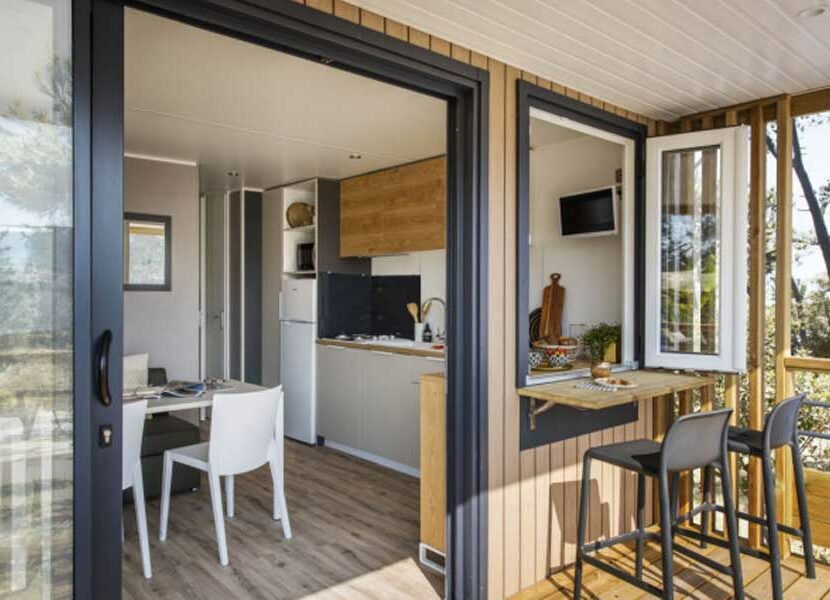 Accommodation
The joy of camping by the sea is an achievable dream at Cmindin amping. A stone's throw from the beach between South Brittany and Loire Atlantique, come and spend your holidays with family or friends in this charming establishment in Saint-Brévin les Pins. You will appreciate the softness, calm and comfort of the accommodation. Then you will find your happiness among the different mobile homes of the camping. 2,3,4 rooms, sometimes even mobile homes with sea view!
Tourism
Reside at Cmindin amping gives you the luxury of being at the heart of a incredible tourist wealth : that of La Loire Atlantique, the gaze also turned towards Brittany!
Average rating of the establishment
8.41 / 10
Activities and entertainment
deborah S
Type of stay:
In family with teenager (s)
Accommodation:
Titania Family 3 bedrooms
Period of stay:
July 2021 14 days
Posted the :
11/08/2021
General:
Lots of activities for the kids. Small camping family and calm. Team camping very friendly and pleasant.
Close to the sea, but no pretty beach in the immediate vicinity of the camping.
Accommodation Reviews:
Good accommodation sufficient for 4 people. Covered terrace very popular, even in rainy weather!
A little tight in kitchen equipment.
Santana
Type of stay:
In family with child (ren)
Posted the :
30/05/2021
General:
Camping nice, comfortable mobile home I recommend
Accommodation Reviews:
No comment.
Leila pee
Type of stay:
For sharing
Posted the :
29/05/2021
General:
Our stay with friends
The setting is not ideal, I would not come for a vacation
Accommodation Reviews:
Being all together
A little small