welcome to camping Chestnut
With its view of the mountains and its proximity to the Chassezac river and the typical village of Vans, le camping Chestnut offers you an ideal setting for a holiday with family or friends under the sun of Southern Ardèche.
You will enjoy a family welcome, where simplicity rhymes with conviviality. Throughout your stay, you can take advantage of the various services offered (snack bar, laundry, bowling green, etc.), refresh yourself in our aqua-play area, or participate in the evening entertainment in joy and good humor until 'at 23:00 p.m. to respect everyone's rest.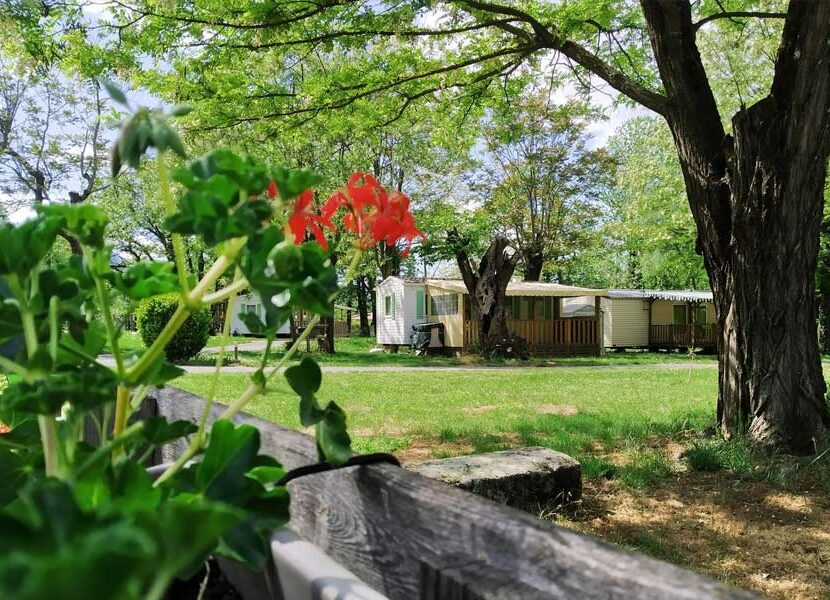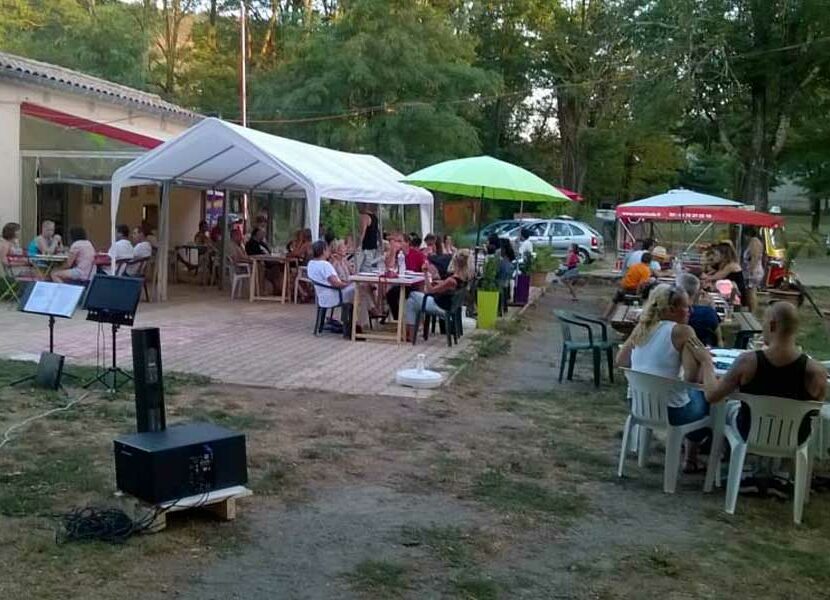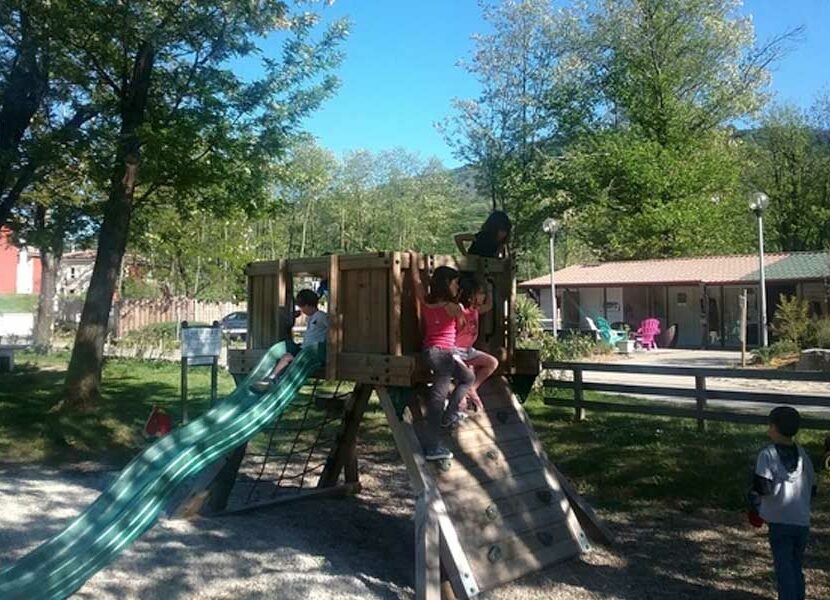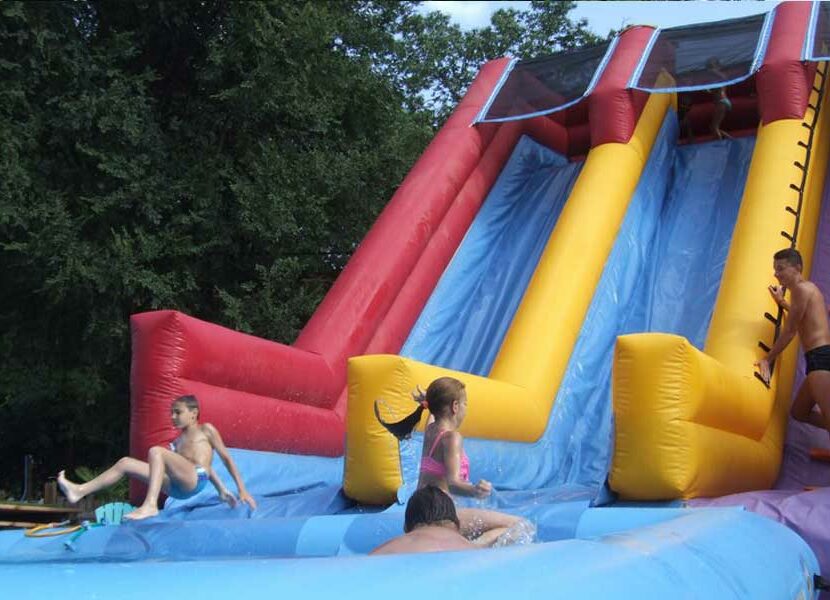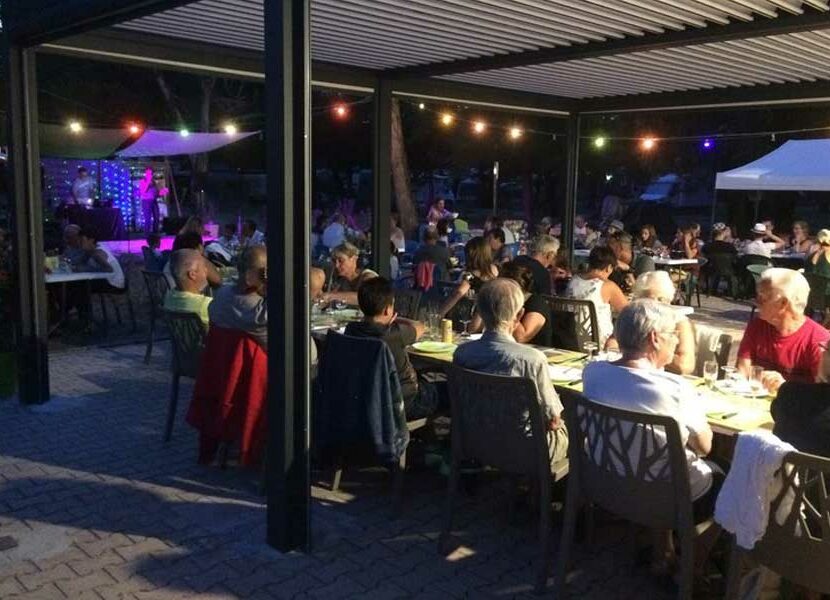 You can travel to Vanséenes lands to discover the Ardèche culture and its many museums, traditional markets and local products, not to mention the most secret corners of the Ardèche, its typical small villages or its ancestral caves (Cocalière cave, the 'Aven d'Orgnac, Chauvet cave…). You will explore the Ardèche from all angles: canoeing, canyoning, climbing, caving, via ferrata, mountain biking, hiking or horseback riding .. The Ardèche will then reveal its treasures to you between cliffs, mountains and breathtaking views. To consume without moderation!
If you want to stay in a camping family on a human scale and enjoy the breathtaking nature of southern Ardèche, stop at the camping Chestnut !
Le camping is ideally located 800 meters from the village of Les Vans where, in addition to an exceptional heritage, you will find all the amenities.
At 500 meters, the Chassezac river will offer you unforgettable swimming moments!
Environment
Le camping is committed to a sustainable development approach, by sustainably reducing water and electricity consumption on the camping. The infrastructures of the camping are made with natural materials and only local shrubs and plants are used. Only steam cleaners and eco-labeled cleaning products are used on the camping. camping will give you a welcome booklet on your arrival with a practical guide on selective sorting within the camping.
At the entrance you will find containers for recyclable waste, glass containers and a composter placed at your disposal in the vegetable garden. The camping raises awareness among its customers through various means of display, its welcome booklet and documents on the economical management of water, energy and waste.
Equipment at camping castanhada
For the youngest at camping Chestnut
Children of all ages will find their happiness in the camping Chestnut !
First of all, a wooden playground with slide will delight the youngest. Then, a space with trampoline and ping-pong table as well as board game tables will be the occasion for good times and giggles. Then, from June 30, they will meet at the water fun area with bouncy castle and even two 6-meter slides.
As for the older ones, they can meet around the table football or the outdoor pool table near the snack bar.
Multisports ground
In addition, a beautiful grassy play area, in the heart of camping, equipped with a multisport net, will allow you to practice your favorite sports: volleyball, badminton ...
Bowling
Finally, a pétanque court will be an opportunity for great games of boules.
Tv
Le camping Also offers you a large screen television so that you do not lose any great sports time during your holidays.
Chicken coop
In addition, to the delight of all, a henhouse has been installed within the camping.
Sorting
A selective sorting area is present on the camping. You will thus find all the useful information on the subject in the practical sorting guide provided with your welcome booklet.
services at camping castanhada
Rentals / Sale
Le camping Castanhada will provide you with during your stay, subject to availability, refrigerators, baby cots but also gas planchas. the camping also offers comfortable disposable sheets and European plugs for sale.
Ready
En outre, le camping will lend you ping-pong rackets if needed.
Bakery
You can order breads and pastries at the reception of the camping in July-August.
Home
You will find at the reception of the camping Castanhada all the tourist information you need to have a successful stay in Ardèche. You can book your outdoor activities on site: via ferrata, caving, canyoning, climbing, paddle boarding and canoeing fishing.
Le camping sets up a late arrivals service, so that your arrival is never a source of stress!
Wi-Fi
To stay connected during your holidays, wifi will be offered to you throughout camping (paid service).
Catering at camping Chestnut
The Vie'happy awaits you to eat in the camping Castanhada. The snack bar offers chopped steaks and fries, homemade hamburgers, salads, pizzas (on site or to take away)… You can order roast chicken. A breakfast service is set up in the morning, to take advantage of the terrace and the first rays of sunshine. For pleasant moments with family or friends, Vie'happy is also a cocktail bar and ice cream parlor.
Groups welcome at Castanhada
Le camping will offer personalized group reception for your family and friendly events, etc. Group reception will then be possible during the opening period of the camping, except from July 14 to September 1. The team of camping will therefore advise you as best as possible and will organize with you the program of your stay according to your needs and desires: themed meals, evening entertainment, etc. Likewise, outdoor activities (supervised or not), such as canoeing , paragliding, climbing, canyoning or hiking can take place. In addition, you will be accommodated in mobile homes and chalets. Several options are then possible: half-meals possible, breakfasts, etc. Finally, you will benefit from specific prices and special conditions.
Entertainmentau camping castanhada
Entertainment is offered in high season (July-August). First, your stay will begin with a welcome drink to get to know each other.
The youngest then benefit from evening entertainment dedicated to them (karaoke evenings, etc.). Sound, play of light and laser will delight the youngest… as well as the older ones!
You will also have the opportunity to participate in the many activities, accessible to all, offered within the camping. During the day, pétanque tournaments and molkky games are organized for pleasant moments of conviviality. You will also have the opportunity to discover the local natural curiosity, the Païolive wood, free of charge, with a professional guide.
In addition, certain paid activities can be set up by the camping, like the discovery of the Ardèche along the water thanks to a canoe day on the Chassezac.
Need to relax and rejuvenate? The camping Castanhada also offers Vinyasa yoga sessions every Wednesday in high season with Angelina, graduate yoga teacher and creator of Yoga Feeling. The lessons are done in small groups, the necessary equipment will be provided to you. All levels, men and women, will be welcome! Due to limited places, you will need to book at the welcome drink.
Finally, in the evening, you will enjoy the various entertainment: Wednesday dances and mussels and chips, karaoke evenings, bingo lotto ...
To prepare your stay, go to pages Accommodation, Themes et Tourism.
Services
Reception
Late arrivals service
Personalized group reception
Restauration
Order breads and pastries
Snack bar / takeaway options
Practical life
Sale of disposable sheets and European plugs
Paid wifi service
Loan of ping-pong rackets
Activity reservations
Rental of refrigerators, cots, gas plancha
Entertainment
Playful
Petanque tournaments
Canoe days
Parts of molkky
Evening
Evening entertainment for children
Karaoke evenings
Dance evenings / mussels and fries
Other
Yoga class
Free discovery of Païolive wood with a guide
Loto-bingo
Equipment
Aquatic center
Aquatic inflatable structure
Playful
Baby foot
billiards
Trampoline
Ping-pong
Board games tables
Bowling
Multisport field with net
Practical life
Large screen TV
Sorting space
Themes
The Ardèche will prove to be as exciting for nature lovers as it is for culture and architectural heritage enthusiasts! On foot in ancient medieval towns or by canoe along the water, discover the heritage of Southern Ardèche.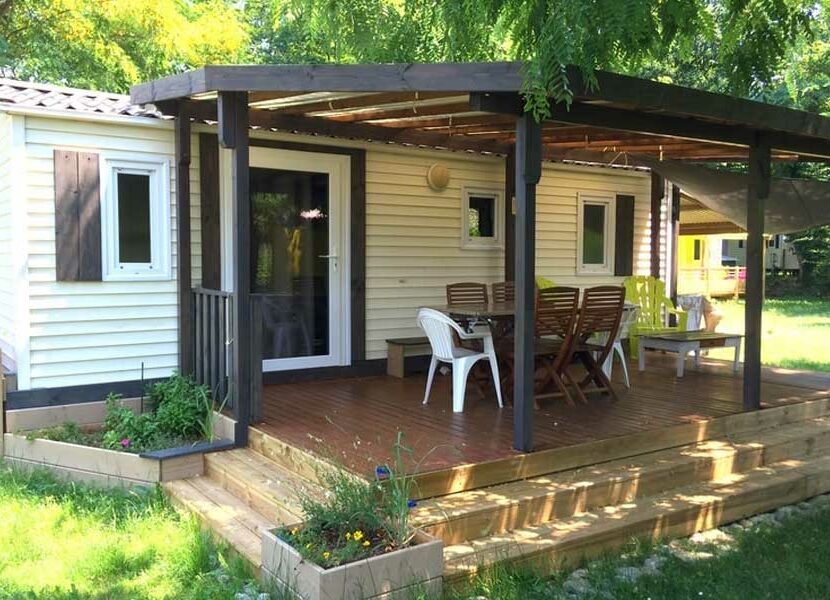 Accommodation
If you want to stay in a camping family on a human scale and enjoy the breathtaking nature of southern Ardèche, the camping Chestnut is for you!
Tourism
Enjoy your stay at camping Chestnut to experience rich and intense holidays in the South-Ardèche.
Average rating of the establishment
9.13 / 10
Activities and entertainment
jason - hauterives
Type of stay:
As a young couple
Accommodation:
Mobilhome CONFORT 2 bedrooms Saturday / Saturday
Period of stay:
October 2020 2 days
Posted the :
28/10/2020
General:
Camping at the top very good mobile home reception very good and activity With all the camping it's great we will go back without problem
Accommodation Reviews:
No comment.
Activities and entertainment
Peter - Luckau
Type of stay:
Other
Accommodation:
Tent and car or caravan package or camping bus (electricity in supplement, European plug not included)
Period of stay:
August 2020 3 days
Posted the :
16/09/2020
General:
Region, Ort Le Vans
Accommodation Reviews:
Campingterrain
Activities and entertainment
Angela - SAINT GERMAIN LAPRADE
Type of stay:
As a young couple
Accommodation:
Tent and car or caravan package or camping bus (electricity in supplement, European plug not included)
Period of stay:
August 2020 1 days
Posted the :
14/09/2020
General:
Good value for money.
Accommodation Reviews:
Spacious and shaded location.