Camping-Caravaneige l'Iscle de Prelles
welcome to camping Caravaneige l'Iscle de Prelles
Mobil-homes, chalets et hébergements insolites vous attendent au Camping-Caravaneige l'Iscle de Prelles. Vous serez immergés dans une nature généreuse sur 4 hectares clôturés. La piscine chauffée, le mini-golf, les terrains de jeux, le snack-bar, la pizzeria et les animations feront la joie de toute la famille. Leur environnement proche est riche de sites remarquables pour la randonnée, le trail, la via ferrata, le canyoning, le rafting, le VTT, la pêche en lacs ou rivières, la luge d'été, la balade à cheval, le centre aquatique, le golf, une nuit en refuge…
Le Camping-Caravaneige l'Iscle de Prelles bénéficie d'un emplacement privilégié.
Il est idéalement situé à 5 minutes du téléphérique du Prorel/Briançon, Serre-Chevalier Vallée et à 15 minutes des stations Puy St Vincent-Vallouise-Pelvoux et Montgenèvre. Alors s'offrent à vous ski alpin, nordique ou freeride, raquettes, luge, cascades de glace, chiens de traineaux, patinoire naturelle, centre aquatique de Briançon, bains chauds à Mônetier … En définitive ressourcez-vous au rythme des saisons.
Open all year round. 3 stars. Guarding all year round. Enclosed space for wintering caravans, camping-cars. Camping and rentals (even sales) of Chalets.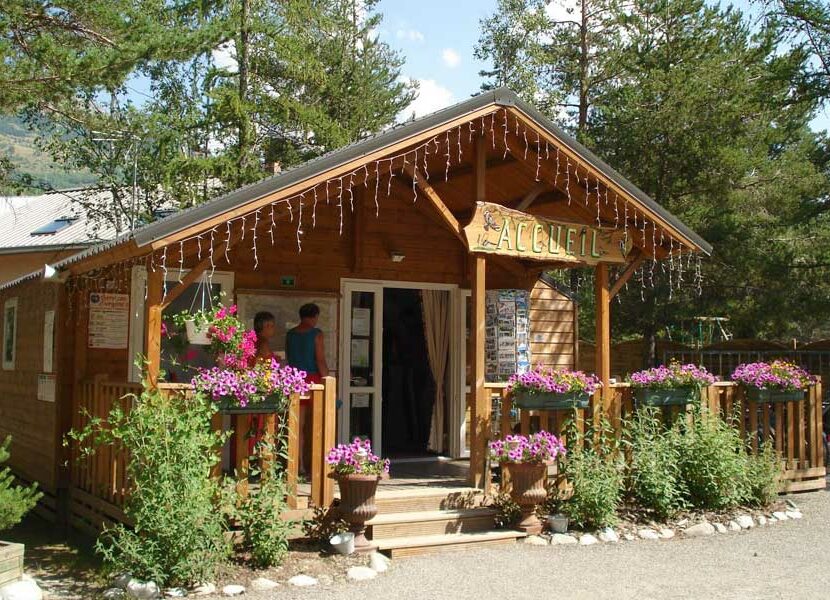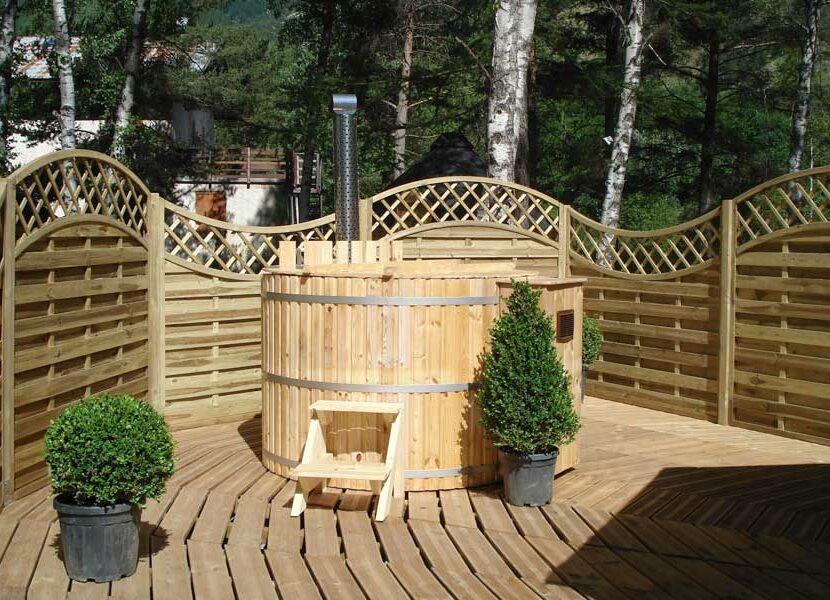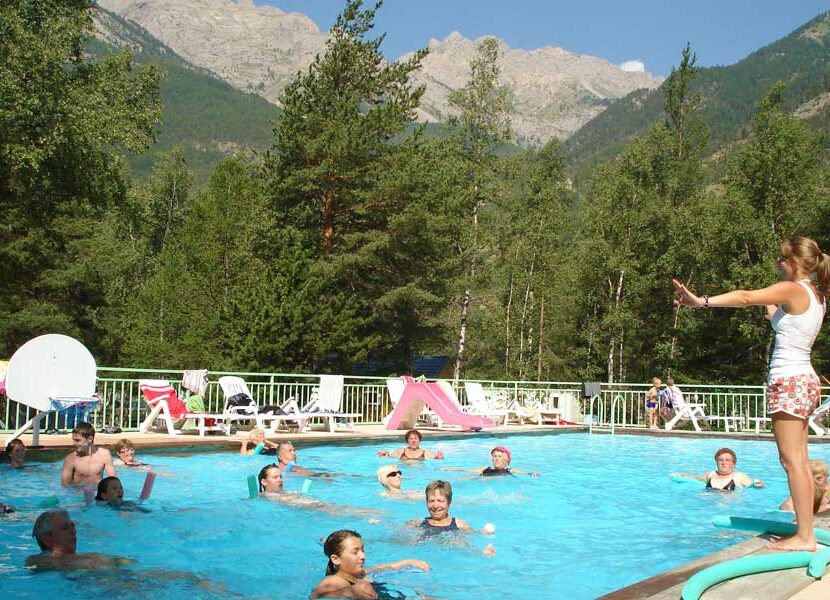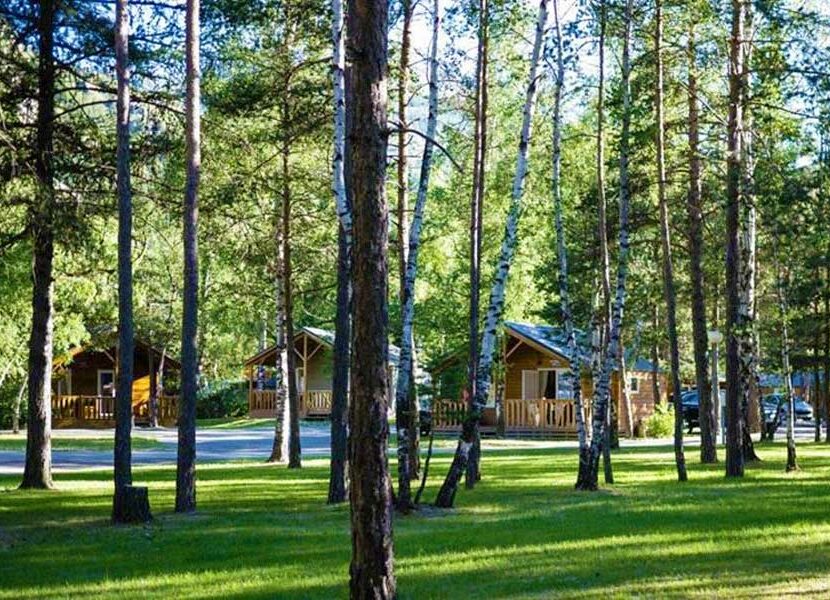 An idyllic location ideal for sportsmen and nature lovers
In the first place the Camping-Caravaneige l'Iscle de Prelles est un havre de paix, pour les amoureux de la nature et de découvertes estivales. Par exemple à Saint Martin de Queyrières, in the land of the Ecrins, the aptly named, you will be on a stage of the Way of Saint Jacques de Compostelle. The dam of Prelles and its mill are exceptional, as well as the cultural heritage. (Briançon, Unesco classification). However, the proximity of the stations, Serre Chevalier for example at 20 minutes, do this camping a real hamlet, the starting point for winter sports!
Trois étoiles amplement méritées, sur quatre hectares plantés de mélèzes de pins. Ceci sans compter une ouverture directe sur la Durance, vive et dynamique, dont les rives cachent une faune et une flore secrètes mais riches pour ceux qui savent « prendre le temps ». Voilà le site ! La rivière, c'est bien sûr la baignade, la pêche, le rafting, et le canyoning. Vous serez aussi à proximité des plaisirs du paragliding, via ferrata, and in direct contact with history and botany on the hiking trails.
Practical information and activities on site
Le Camping-Caravaneige l'Iscle de Prelles is a camping rare ouvert les 4 saisons. En effet de mi-décembre à fin septembre, l'équipe généreuse et professionnelle accueillera vos tentes, caravanes et camping-cars on beautiful pitches, flat and grassed, always attentive to your wishes. From 100 m2 ou plus, des emplacements XXL sont même prévus pour les groupes. Par ailleurs 3 espaces accueillent les touristes à mobilité réduite (PMR). Ils sont installés près des 4 blocs sanitaires (dont un adapté, et un chauffé pour l'hiver!), très bien entretenus.
En résumé les 3 sortes d'accommodation are of extreme quality. You will have the choice between renting Nordic "Insolites Kotas", cozy chalets in winter and summer, and mobile homes in summer. All spacious and well equipped. Wood is the key word, illustrated by palisades and the design of the accommodation.
au camping-Caravaneige l'Iscle de Prelles, vous aurez un espace SPA et bien-être comme dans un rêve
At the bend of a flowery bignone, you will like to relax at the Spa de l'wellness area " grâce à notre partenaire l'école Ahimsa. Ainsi vous découvrirez les bienfaits des massages relaxants, ressourçants, reconstituants… Tout un programme en fonction de votre état d'esprit et de votre état physique.
En somme tous les moments sont propices pour se faire du bien. Hommes, femmes, enfants, sportifs, tranquilles ou contemplatifs, vous trouverez la formule idéale qui correspond à votre définition de la détente.
Pleasures for all
Le cœur du Camping-Caravaneige l'Iscle de Prelles, c'est aussi, l'été, l'agréable piscine, chauffée. Elle ouvre sur un panorama de montagnes flirtant avec les lumières du jour. Vous pourrez y jouer au basket aquatique. Vos bambins apprécieront le toboggan à leur taille. Et puis les fauteuils « bain de soleil » vous tendent les bras, à moins que vous ne préfériez la convivialité à la « Pagnol » d'une partie de pétanque.
Aux chalets d'accueil, vous jouerez au baby-foot, ou vous reposerez dans l'espace TV. Le sport est mis à l'honneur avec un mini golf et un terrain de volley. Enfin vous participerez si vous le souhaitez à des matchs amicaux sur l'un des 3 terrains de tennis. Ou bien vous opterez pour l'équitation, aux abords directs du camping.
A fully dedicated qualified team
It should be noted that at Camping-Caravaneige l'Iscle de Prelles, une belle liberté règne. Elle est portée par une équipe qui « se met en quatre » pour animer les clubs enfants et vous permettre quelques « échappées belles ». Par exemple une animatrice diplômée, réjouira vos enfants, avec matinées à thèmes, chasses au trésor, et activités manuelles. Le tir à l'arc ou l'Escal'Arbres seront encadrés par des moniteurs spécialisés.
Table tennis will be an opportunity for sports sharing, and the pullet area a fun reminder of the ecological principles of the team, which provides selective sorting. You will be delighted by the deliveries of fresh bread and pastries from the baker, and small catered dishes from local artisans. The bar / small grocery store are welcome as a breakdown service and places to exchange around a drink or a good pancake! You will even have a draft beer bar in summer.
AU Camping-Caravaneige l'Iscle de PrellesI, LS penseNT à tout !
Cyclistes et motards, ils vous chouchoutent ! D'abord dans les mobile-homes, vos draps seront fournis. Ensuite vous pourrez louer le linge de toilette, et profiter d'un abri pour vos vélos et motos. Vous pourrez également avoir quelques outils à disposition, et sur demande, nettoyer vos montures et utiliser tables et chaises. Quel luxe! Tous au camping you will drink the sweets of living around a "weekly drink".
Bien entendu vos animaux sont les bienvenus, tenus en laisse, et carnet vétérinaire à jour. Enfin vous aurez un dépôt de gaz, la Wifi disponible partout, à régler à l'accueil, et une navette pour les déplacements vers les pistes de Serre Chevalier, prévue pour les camping caristes. Alors! Elle n'est pas belle la vie au Camping Caravaneige de l'Iscles de Prelles ?
To prepare your stay, go to pages Accommodation, Themes et Tourism.
Services
Restauration
Snack-bar
Pizzeria
Fresh bread and pastries from the baker
Small catered dishes from local artisans
Grocery
Cash
Trade
Gas depot
Bathroom linen rental
Other
Guarding all year round
Loan of chairs and tables for hikers and cycle tourists
Paying shuttles to reach Serre Chevalier
Wi-Fi
Entertainment
Youth
Theme mornings
Geocaches
Manual activities
Playful
Archery
Escal'Arbres supervised by monitors
Equipment
Youth
Mini golf
Playgrounds
Foosball
Other
Spa and wellness area
TV area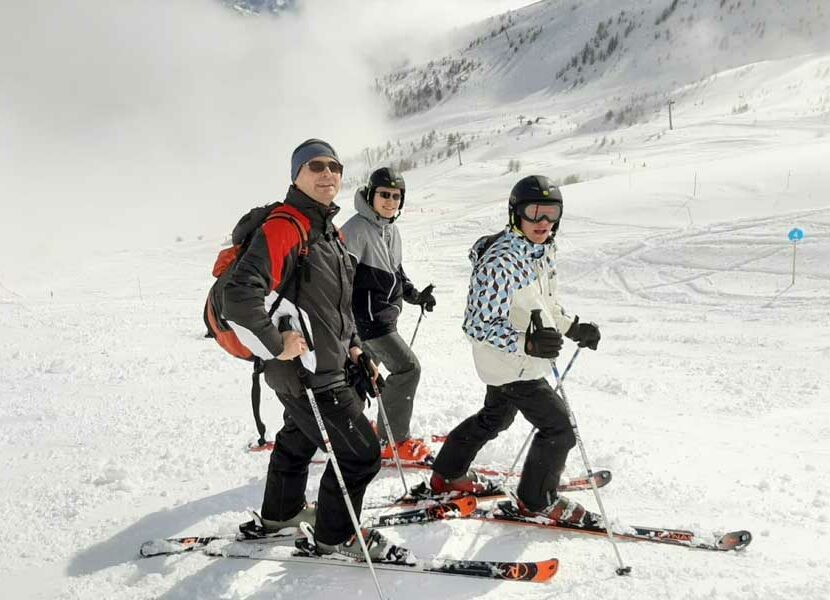 Themes
Le Camping-Caravaneige l'Iscle de Prelles est un lieu ouvert hiver comme été pour pratiquer aussi bien des sports d'hiver que des sports d'été ?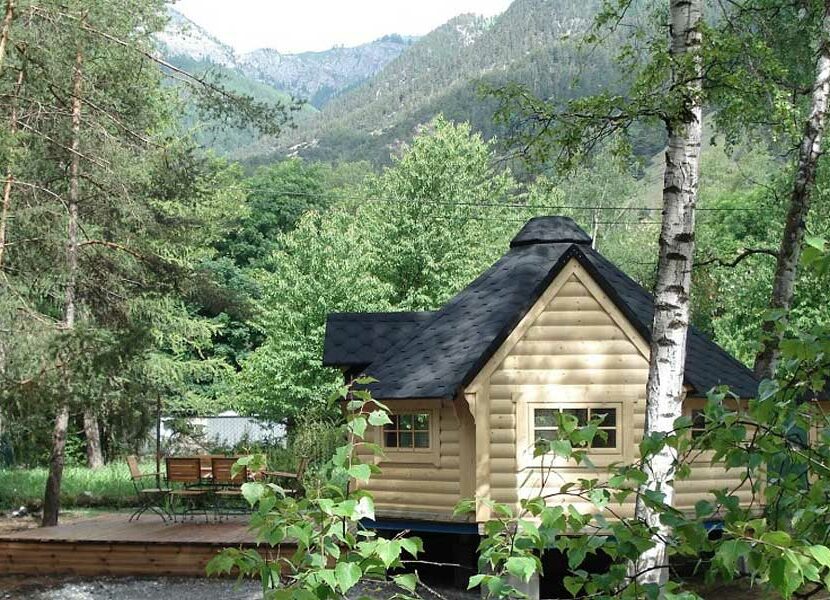 Accommodation
You have found the camping ideal for a relaxation area in the north of the Hautes Alpes.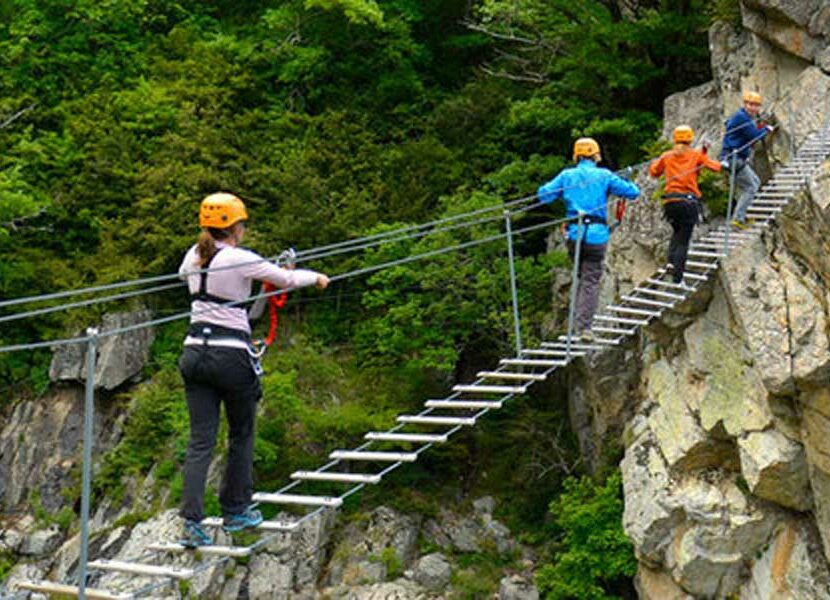 Tourism
Au cœur du Pays des Ecrins, tout proche de Briançon et de Serre Chevalier et à quelques minutes de Montgenèvre et Puy Saint Vincent, découvrez le Camping-Caravaneige l'Iscle de Prelles, un lieu magique au cœur des montagnes.
Average rating of the establishment
8.87 / 10
skunsk
Type of stay:
Senior couple
Posted the :
13/04/2021
General:
cross country skiing
nothing
Accommodation Reviews:
prices too high compared to the valley competition
CELINE
Type of stay:
In family with child (ren)
Posted the :
13/04/2021
General:
the availability of Cécile and the gentleman (sorry I did not remember her first name), both very kind and responsive.
Accommodation Reviews:
Charm, cleanliness, very well equipped.
Christelle
Type of stay:
In family with teenager (s)
Posted the :
13/04/2021
General:
Impeccable cleanliness of sanitary facilities and accommodation. The warmth of this atypical and unusual place. The kindness and availability of the maintenance man. Always discreet, always present ...
Accommodation Reviews:
Atypical and welcoming Kota ... Nicely decorated. Just what is needed!